New Tacton CoDesigner and SOLIDWORKS Software Helps to Simplify The Custom Product Design
Press Release Summary: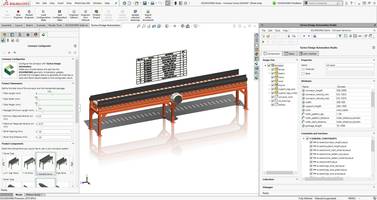 Brings collaborative configuration for engineers to focus on customer needs and innovation
Provides modular development and improves design times without using the API
Gives engineers the tools and productivity to streamline product development as well as reduce the errors
---
Original Press Release:
Tacton is Showcasing its Newest Design Automation Solution at SOLIDWORKS World 2019
Attendees to see demonstration of Tacton CoDesigner and how they can simplify the custom product design integrating with SOLIDWORKS
Chicago, Feb. 6, 2019 /PRNewswire/ -- Tacton, a leader in Configure Price Quote (CPQ) and design automation, today announced that it will be demonstrating Tacton CoDesigner at SOLIDWORKS World 2019, being held February 10-13, 2019 at the Kay Bailey Hutchison Convention Center, Dallas, Texas.
The 21st annual SOLIDWORKS World brings together designers, engineers, managers, and partners to discuss ideas, trends, and technology shaping the future of product design. Show attendees will see how Tacton CoDesigner, a new addition to the design automation product portfolio, and SOLIDWORKS software simplifies custom product design. Now customers can conceptualize the product during each phase of the design process to gain a detailed understanding of it, all the way from initial design to production and delivery.
As a SOLIDWORKS Gold Partner, Tacton delivers a new level of collaboration with cloud-based Tacton CoDesigner driving enormous cost and time savings by empowering product, engineering and sales teams to identify product design concerns and effectively manage approvals throughout the development process.
"In the water treatment industry, lead-time is often more important than price," according to Brian Bartholomew, Environment Senior Project Engineer at ClearStream Environmental, a leading provider of process equipment for the water and wastewater treatment industries. "With the SOLIDWORKS and Tacton Design Automation, once our proposal is accepted, design goes through engineering in just a few days, then out to fabrication. This type of automation has been a key factor in our business growth."
"The power of Tacton CoDesigner and SOLIDWORKS gives engineers the tools and productivity to streamline product development and reduce errors," said Nick Iwaskow, Director, Alliances & Partnerships, SOLIDWORKS, Dassault Systèmes.  "At SOLIDWORKS World, attendees can receive a unique glimpse into how they can use Tacton CoDesigner for engineer-to-order automation inside SOLIDWORKS. With a high level of interactivity, ease of use and maintenance, engineers can easily configure designs of complex products and automatically generate complete 2D drawings, 3D models and quote documents."
 "Using Tacton CoDesigner and SOLIDWORKS together in a cloud environment is the next step in the evolution of product development for manufacturing," said Tacton CEO Frederic Laziou. "By giving engineering and sales teams early and more powerful insights into every stage of product development, we are giving them a real competitive advantage in the race to get getting the right products to market, while reducing the risks of design flaws and costly engineering order errors by 30 percent."
To see the power of Tacton and SOLIDWORKS working together, please visit Tacton at booth number 828 or hear from end users and Tacton experts during these sessions:
Take Your Design Automation Project to the Next Level
Sunday, Feb. 10, 6:30 p.m.- 6:45 p.m.
Pawel Dabrowski, VP Channel Sales, will showcase how Tacton Design Automation is the preferred design efficiency tool for manufacturing. With web-based Tacton CoDesigner, Tacton brings collaborative configuration and design to sales and design engineers so they can focus on customer needs and innovation at the same time.
Improve Design Time - Test Drive Tacton Design Automation
Wednesday, Feb. 13, 8:30 a.m. - 10:00 a.m.
Jason Jensen, Design Engineer, ClearStream Environmental and Chris Price, Design Automation Developer, ClearStream will explore the flexibility of Tacton Design Automation. Attendees will learn how to automate SOLIDWORKS parts, assemblies and drawings, and discover the ease and benefits Tacton offers. See layout mode in action for use in teams that provides modular development, and learn how to improve design times without using the API.
About Tacton
Tacton's manufacturing software solutions connects the customer with product and factory for smarter business. By putting customers at the heart of the process, we focus on their needs, enabling better sales and more efficient operations. Drawing upon 20 years of AI research, our constraints-based configurator goes beyond CPQ, transforming the way you do business - letting your customers build relationships with their clients, not just products. With global manufacturing expertise, we work with partners such as ABB, Bosch, Caterpillar Propulsion, Daimler, MAN, Mitsubishi, Siemens, Toshiba and Yaskawa. Tacton is headquartered in Stockholm and Chicagowith offices in Karlsruhe, Germany, Warsaw and Tokyo. Learn more at www.tacton.com
SOLIDWORKS is a registered trademark of Dassault Systèmes in the US and other countries. Other brand and product names are trademarks of their respective owners.
Source Tacton AB
Contact:
Rebecca Mettler, BOCA Communications for Tacton, tactonpr@bocacommunications.com, +1-914-215-0113
Web Site: https://www.tacton.com
More from Architectural & Civil Engineering Products