New System Mechanic Ultimate Defense Boost Computer's Speed
Press Release Summary: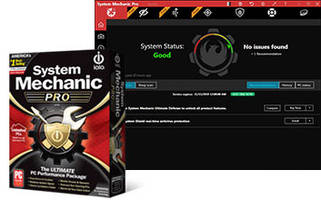 Removes resource-draining bloatware
Recovers accidentally erased files
Wipes unwanted data from whole drives
---
Original Press Release:
System Mechanic Ultimate Defense - 7 Powerful Products in 1
iolo technologies LLC, recognized globally as the industry leader in PC optimization, is proud to announce the launch of System Mechanic Ultimate Defense™ - the premier version and latest evolution of its award-winning optimization software, System Mechanic.
iolo technologies has combined the power of System Mechanic Pro® and the comprehensive protection of Privacy Guardian™, Malware Killer™, and ByePass™ into one Ultimate Defense suite of products.
What do bloatware, sluggish downloads, ad-trackers, malware, password hackers, and digital fingerprinting have in common? Now you can fight them all - and more - with the all-in-one System Mechanic Ultimate Defense.
System Mechanic Ultimate Defense is the only all-in-one software suite on the market that can help:
Boost your computer's speed
Remove resource-draining bloatware
Block damaging malware
Recover accidentally erased files
Wipe unwanted data from whole drives
Ensure anonymous browsing
Keep your search history private
Shield your passwords and credit cards online
Thwart "digital fingerprinting" that evades VPNs and cookie cleaners
Enhance identity theft protection
Stop ad-trackers from following and targeting you
System Mechanic has won the PC Magazine Editors' Choice award for best optimization software eight years in a row. And now, with easier, improved installation, you can get 7 powerful products in 1 easy-to-use dashboard of System Mechanic Pro®:
System Mechanic Pro - Optimize your PC for peak performance
Privacy Guardian™ - Protect your private life with anonymous browsing, private search history, and enhanced identity theft protection
Malware Killer™ - Find and remove dangerous malware from already-infected computers
ByePass™ Password Manager - A platform-agnostic, secure password manager that also helps protect your online purchases
System Shield® - Certified antivirus/antispyware protection that will not slow you down
DriveScrubber® - Securely erase data from your hard drive
Search and Recover™ - Recover accidentally deleted files, photos, email and more
Don't miss out the time limitted offer for existing customers - upgrade to the new ultimate protection including a year of service for only $19.99 instead of $79.95! Click here for the offer details
Visit https://www.iolo.com/products/system-mechanic-ultimate-defense to find out more and upgrade to all-in-one PC performance, security and privacy protection!
More from Software