New SUNTEST XXL+ ST Includes Specimen Front Spray and Back Spray System
Press Release Summary: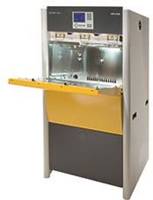 Features large test chamber where components and materials are arranged horizontally on a 79 cm x 37 cm test table
Allows for short test times by using extended UV filters
Interior and exterior components such as trim, gaskets and door handles are weathering tested to SAE standards
---
Original Press Release:
Testing Automotive Components is Now Easier and Faster
Introducing the versatile, new Atlas SUNTEST® XXL+ ST Xenon Test Instrument.
Mount Prospect, IL, USA, July 17, 2019 – Accelerated weathering testing against heat, humidity and UV radiation is integral to selecting the best materials for automotive components. But testing the components themselves has been problematic.
That's why Atlas – a leader in accelerated automotive weathering testing – created the new SUNTEST® XXL+ ST. Now, small-to midsized interior and exterior components, such as trim, gaskets and door handles, can easily be weathering tested to SAE (Society of Automotive Engineers) standards for both SAE J2412 for interior and SAE J2527 for exterior components, as well as OEM-specific standards.
Currently, research and quality labs use Atlas rotating rack xenon instruments for testing both materials and components. The problem is that these machines are designed to accommodate flat, standard-sized samples. Components, however, are dimensional and come in varying sizes and shapes. Testing them in a rotating rack requires a costly, time-consuming process of cutting each component into parts for samples. 
Instead of racks, the SUNTEST XXL+ ST features an extra-large test chamber where components and materials can be easily arranged horizontally on a 79 cm x 37 cm test table. The chamber's extended height of 44 cm – unique for this class of xenon instrument – allows for better control of irradiation and temperature conditions.
Additional SAE-specific features that come standard on the SUNTEST XXL+ ST include a specimen front spray and back spray system – both of which are fully pre-programmed on the touchscreen controller. The SUNTEST can also be configured for the VW exterior standards PV3929 and PV3930 (Florida-Test).
Finally, the new SUNTEST instrument allows for shorter test times by using so called extended UV filters. These filters transmit more short wavelength UV in to the test chamber than common Daylight filters and therefore can promote further acceleration of the test.
For more information about the new SUNTEST XXL+ ST and automotive parts testing, please visit the Atlas website www.atlas-mts.com or contact us for more information.
About Atlas Material Testing Technology - www.atlas-mts.com
For over 100 years, Atlas has been a leader in materials testing, offering a complete line of weathering testing instrumentation, laboratory and outdoor testing services. Its markets include automotive, paint and coatings, plastics and additives, textiles, pharmaceutical and consumer products, architecture, aerospace, photovoltaics, and packaging. In addition to lightfastness and weathering instruments, Atlas also produces corrosion and flammability testing instruments and provides client education and technical consulting services worldwide.
Atlas is headquartered in Mount Prospect, Illinois. It is a business unit of Ametek Measurement, Communications & Testing, a division of Ametek, Inc. (NYSE:AME), a leading global manufacturer of electronic instruments and electromechanical devices.
Contact:
Sandra Schneider
Global Manager Marketing Communications
Phone: +49-6051-707-160
Email: sandra.schneider@ametek.com
More from Test & Measurement