New Storm Team Max Liquid Ice Melt is Biodegradable and pH Neutral
Press Release Summary: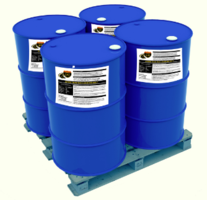 The Storm Team Max Liquid Anti-Icer/De-Icer with proprietary corrosion inhibitor creates a barrier between metal and liquid ice melt. The product is a 50% potassium acetate solution that is environmentally friendly, non-corrosive and non-staining. It acts as a pre-treatment for preventing ice buildup.
---
Original Press Release:
Interstate Products Expands Liquid Ice Melt and Pellet Ice Melter Product Lines
Sarasota, Fl -- Interstate Products Inc (IPI) announces an expansion of its Ice Melt product lines.
IPI has added Storm Team Max to its offerings of Liquid Ice Melt. Storm Team Max Liquid Ice Melt is a 50% potassium acetate solution. This liquid ice melt is an environmentally safe and effective alternative to chlorides. The Storm Team Max anti-icer/de-icer is formulated with a proprietary corrosion inhibitor to form a protective barrier between metal and the liquid ice melt.
Storm Team Max adds to the Storm Team Plus Liquid Ice Melt product line, which also is an environmentally friendly snow and ice melt product that is biodegradable, non-staining, non-corrosive and pH neutral. Both also act as very effective pre-treatments to prevent ice buildup. https://store.interstateproducts.com/products/Liquid_Ice_Melt.
Interstate Products has also added Blue Heat Snow & Ice Melter to its already full service product line of Ice Melt. Blue Heat ice pellets are effective to 25 degrees below zero. It does not attack concrete and is safer to use than the lower grade ice melters on the market.
https://store.interstateproducts.com/products/Ice_Melts
In addition, CMA Pure (Calcium Magnesium Acetate) Ice Melter has been added to the product lineup. CMA Pure is made of dolomitic lime and ascetic – is non-toxic and environmentally & pet friendly. It is used mainly on areas that need special protection for the environment.
The complete line of liquid ice melt products and pellet ice melt products can be accessed at: 
About Us:
Since 1996, Interstate Products, Inc. (IPI) has become a global multi-brand supplier of quality environmental, maintenance and safety product solutions to industrial, commercial, institutional, military, and various government organizations. Since its inception, IPI has experienced tremendous growth fueled by our commitment to continuously add innovative new products to meet the demands of a rapidly expanding and diverse customer base. In addition to being a leading provider of spill containment berms and flexible storage tanks – available in both standard and custom sizes, we also supply top of the line IBC and spill pallets, spill kits, outdoor drum storage, flammable safety cabinets and other safety cabinets, absorbents, material and drum handling equipment, stormwater products, bumper post sleeves, parking stops, speed bumps, ADA pads, corner/wall protectors, safety cans, rust converter and rust control products, cleaners and degreasers, non-slip floor coatings, weed killer and selective herbicides, environmentally friendly liquid and pellet ice melt and deicers, concrete and asphalt patch and more.
Spill containment berms are a featured product line of Interstate Products. We partner with numerous manufactures and provide expert product knowledge and service for all types of portable spill containment berm requirements. IPI also provides on-site services for spill containment berm applications.
Additionally, IPI features water bladders and fuel bladders for storage from multiple vendors – available online or by contacting our knowledgeable sales representatives at 1-800-474-7294.
 Information about these and other quality products can be obtained by visiting our company website at https://store.interstateproducts.com/
Interstate Products differentiates itself with outstanding customer service and a wide array of top of the line manufactures in our key product lines to provide an optimum customer experience. IPI has the highest customer satisfaction rating in the industry.
For more information, please contact Interstate Products at 6561 Palmer Park Circle Suite A, Sarasota, FL 34238 or call toll free1-800-474-7294 for domestic inquiries and 941-377-8610 if outside the United States.
The company's email address is services@interstateproducts.com.
Contact: 
Melissa Jenkins
Product Announcements
941-377-8610 or
rich.e@interstateproducts.com
More from Architectural & Civil Engineering Products