Automated Storage/Retrieval Systems (AS/RS)
New Storage System from Germany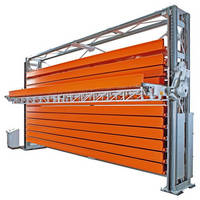 IMHX 2010 preview information - 16th to 19th November 2010 - NEC Birmingham

On show for the first time in the UK will be the KASTO Unitower C automated storage and retrieval system. Formerly intended for holding sheet metal as well as other items such as boxes, drums and pallets, the tower is now also available for storing bar and other long stock.

It was first introduced in May this year at Future Days 2010, the German manufacturer's in-house exhibition held at its expanded Achern headquarters and factory in Germany's Black Forest.

Able to be customised from modules and easy to operate, the Unitower C is ideal for first-time users and is an economical solution to storage in job shops, distribution centres and throughout industry.

Two sizes of bar store are available, 6.5 and 8.5 metres long, cassette width being 840 mm. Both offer high storage density and are quick and inexpensive to configure; installation by the customer is even possible. The new KASTO-BasicControl with touch panel and operator guidance provides easy management of the system and has a 'dead man' control when used in semi-automatic mode.

The design of the steel structure is flexibly configured with standard, perforated structural profile up to a system height of seven metres.

Shelves are moved on plastic inserts in the guideways and are pulled out or pushed back by a powered carriage that runs the height of the tower on racks, allowing the load to be presented to the operator at ground level.

On behalf of:

KASTO Ltd,

Unit 5,

Garamonde Drive,

Wymbush,

Milton Keynes,

MK8 8DF.

Tel: 01908 571590.

Fax: 01908 566106

E-mail: sales@kasto.uk.com

Web site: www.kasto.uk.com

Contact:

Ernst Wagner,

Managing Director.

Issued by:

THE RIGHT IMAGE Ltd,

PO Box 42,

Twickenham,

TW1 1BQ.

Tel: 020 8891 0603.

E-mail: chris@therightimage.net

Contact:

Chris Wright.

Related