New SteadyWeb6 Features 5.0-inch Multi-color Touch Screen
Press Release Summary: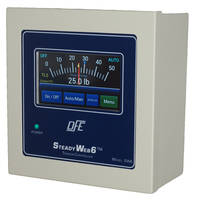 Provides diameter, taper and auto acceleration compensation
Web tension controller is enclosure or panel mount
Includes isolated control outputs and communication options
---
Original Press Release:
Touch-screen Tension Controller Packed With Features
The new SteadyWeb6 is the most simple-to-use full-featured Web Tension Controller ever released. This controller is an affordable, easy-to-implement press or line upgrade with a fast ROI.
Your machine operators will be up-to-speed, controlling running web tension and generating defect-free product in minimal time with the intuitive SteadyWeb6 Automatic Tension Controller.
5.0-inch multi-color touch screen
Isolated control outputs
Enclosure or panel mount
Diameter, Taper and Auto Acceleration Compensation
Communication options