New Stand-up and Pillow Pouch Offers Improved Sustainability and Recyclability
Press Release Summary: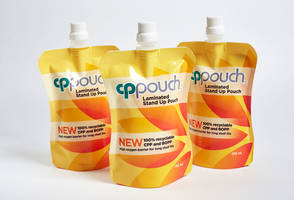 Mono-material pouch developed to match the performance of PET/PE laminate in terms of drop test, puncture resistance and moisture barrier
Pouch consists of a reverse printed BOPP film and a pressure sensitive adhesive-coated cast polypropylene film
Recycle-ready coextruded polypropylene pouch offers operational efficiency, low haze and directional tear advantages versus a polyethylene pouch
---
Original Press Release:
Profol Adds Recyclable Pouch to its CPPouch® Family of Film Solutions.
Sustainability continues to drive packaging innovation and simplification. In flexible pouch packaging, there is a push toward highly functional single-material solutions that can be more easily separated and recycled versus multi-material solutions that are prevalent today.
There have been several recent introductions for polyethylene pouch film technology. These products tout the polyethylene pouch as recycle-ready. Though the polyethylene pouch solutions have their place in some packaging, they don't work well for applications requiring performance attributes that polyethylene can't meet.
The narrow and mid web packaging format, driven by significant growth in digital printing, has helped lead the way to introducing new stand-up and pillow pouch solutions. With the growth in flexible pouch packaging and advancements of digital printing technology, brand owners are willing to cater to the market trend of individualization, which typically requires shorter print times and multiple label designs for a single product line. Economical, smaller run volumes are one of the key advantages of digital printing. Narrow web converters are realizing that, with a low capital investment, their digital label converting can become package converting.
Profol develops new polypropylene pouch technologies.
To meet market needs, the Profol team worked with collaborative partners to develop two polypropylene CPPouch® solutions that offer differentiated performance attributes versus existing polyethylene solutions.
New, coextruded all-polypropylene pouch wins packaging sustainability award at FachPack 2018. Learn more about this prestigious award »
CPPouch solution: 100% recyclable polypropylene pouch.
Profol introduced a recycle-ready coextruded polypropylene film as part of the CPPouch family of pouch solutions. Besides sustainability, one of the key objectives of this mono-material pouch development was to match the performance of traditional PET/PE laminate in terms of drop test, puncture resistance and moisture barrier.
Among other advantages there is no lamination required, eliminating an additional process step. Printing will be applied on the surface versus reverse print. Profol's printing partner, Engelhardt Druck, has demonstrated superb color-adhesion such that even ultra-sonic welding does not compromise the print along the sealing seam, easing concerns for scratching or other visual defects to the packaging during transportation. Trials carried out by Profol's pouch converting partner, Widmann, confirmed that the film can be processed very efficiently. In order to expand the markets where this unique new solution can be used, a version suitable for retort applications up to 121°C (250°F) is being developed.
CPPouch solution: Cast polypropylene sealant web for BOPP/CPP polypropylene pouch.
Profol teamed up with ACPO and Inland Packaging to develop this recycle-ready, polypropylene pouch solution. The pouch consists of a reverse printed BOPP film, and a pressure sensitive adhesive-coated cast polypropylene film. An oxygen barrier coating can be added if needed for the application. For proof of concept, Profol produced the cast polypropylene sealant web with a wide sealing window, ACPO applied the pressure sensitive adhesive to the sealant web, and Inland Packaging reverse printed the BOPP and pressure laminated it to the sealant web to form the final pouch.
Contact This Company Download Spec Sheet
More from Optics & Photonics