New Spirit Levels Offer Improved and Fast Alignment
Press Release Summary: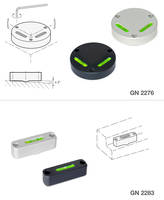 GN 2276 combines two perpendicular linear levels within a single, round aluminum housing
GN 2283 is offered in a robust aluminum housing
Available as a flat version AV and adjustable version JV with an alignment cam on the bottom
---
Original Press Release:
Spirit Levels with Adjustment and Cross-measurement
In digital times, they seem like relics from the past, but spirit levels remain indispensable tools in everyday industrial operations. Two new spirit level types from Winco now offer even better and faster alignment.
It is hardly possible to do without these small tools for adjustment when striving for perfectly horizontal alignment of machines, mechanisms or instruments. And even after the initial setup, spirit levels still come in handy during regular operation to show whether the positioning is still correct. Spirit levels can be used almost anywhere. In addition to needing no power supply or data lines, they are robust, simple to adjust and can be added at any time. Winco has now expanded its existing selection of bull's eye and screw-on spirit levels with two new models – both as practical as ever.
Cross spirit levels GN 2276
The cross spirit levels GN 2276 combine two perpendicular linear levels within a single, round aluminum housing. This design shows the alignment in two planes at once, making installation and leveling easier and faster. Winco offers two versions: One with a flat underside for direct installation and a second version with an alignment ball on the bottom side for adjustment. The second type, designated "JV," allows the spirit level to be adjusted using the three installation screws to set a zero point adapted to the specific situation with a variance of +/- 2 degrees.
Screw-on spirit levels GN 2283
Winco now also offers screw-on spirit levels in a robust aluminum housing. While the existing screw-on spirit levels GN 2282 have been in a deep-drawn, non adjustable sheet metal housing, the new GN 2283 has the same properties as the right-angle spirit level GN 2276. The new screw-on spirit level is available both as a directly mountable, flat version "AV" and as an adjustable version "JV" with an alignment cam on the bottom. Here as well, the spirit level is adjusted during installation using the two socket cap screws.
Both the new linear and cross spirit levels are available in two sensitivity ratings: 2 millimeters of bubble movement correspond to either 6 or 50 minutes of arc. Winco offers a detailed conversion table to illustrate which sensitivity is best for various applications, making it quick and easy to compare height differences, degrees and minutes of arc.
More information on Winco standard parts can be found on the internet at: www.jwwinco.com.
Contact:
Dan Hansher
Tel. +1 262-786-8227
Mail: djhansher@jwwinco.com
Contact This Company Download Spec Sheet
More from Mechanical Power Transmission