New Sorting System Integrates Iso-Flo Shakers
Press Release Summary: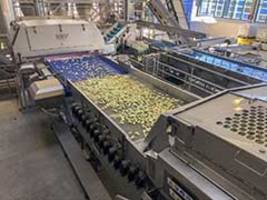 Available in different sizes, key can design apple sorting lines for processors with production capacities from 3 to 15 metric per hour
Detects color, size, shape and structural properties of every object including the presence of chlorophyll to find and remove defects and FM
Equipped with rotary sizing and grading systems, belt conveyors and a VERYX® digital sorter
---
Original Press Release:
Key Technology Introduces Integrated Sorting System for Fresh-cut Apples
April 16, 2020 – Key Technology, a member of the Duravant family of operating companies, introduces its new sorting system for fresh-cut apple products. This versatile solution integrates Key's Iso-Flo® shakers, rotary sizing and grading systems, belt conveyors and a VERYX® digital sorter. Removing pieces of stem, seeds, calyx/flower and core as well as foreign material (FM) and product defects like dark and light stains, rot and skin, this apple sorting line automates inspection to significantly improve overall product quality and increase yield while reducing labor requirements.
"Our expertise in both digital sorting and product handling enables us to design highly innovative and effective integrated systems to solve persistent food processing challenges. Until now, fresh-cut apple processors around the world have typically relied on manual inspection to achieve their quality objectives. With our new apple sorting line, they're able to automate and transform their entire operation," said Karel Van Velthoven, Advanced Inspection Systems Product Marketing Manager at Key. "Beyond improving product quality and reducing operating costs, this totally new sorting strategy massively increases product recovery. Before, people inspected halves or wedges, so a lot of good product was lost with each defect. By placing VERYX after the cutter, the sorter inspects smaller apple pieces such as cubes and strips - every defect that's removed takes much less good product out with it."
This integrated solution gently sorts peeled and skin-on apples, as well as pears, which are cut in a variety of sizes and shapes including cubes, strips and wedges. With VERYX sorters available in different sizes, Key can design apple sorting lines for processors with production capacities from 3 to 15 metric tons (6,600 to 33,000 lb.) per hour.
The new solution begins with belt conveyors that transfer whole, halved or sliced apples, after they are peeled and cored, to Key's Sliver Sizer Remover (SSR), which mechanically removes fines that result from the peeling and coring process. The product then continues to either a cutter that cuts the apples into different sizes and shapes or, if already sliced, directly on to the sorter. By cutting whole or halved apples instead of wedges, the yield from the cutter is improved since there are fewer slivers. When whole or half apples are the final product, the cutter can be easily bypassed. A conveyor then carries the apple cubes, strips, dices or wedges to an Iso-Flo infeed shaker that spreads the product for presentation to a mechanical Precision Size Grader (PSG), which removes small pieces that are generated in the cutting process. Next, a Key Iso-Flo dewatering shaker removes any residual water while spreading and singulating product to feed the downstream VERYX sorter.
Equipped with top- and bottom-mounted cameras and laser sensors, VERYX detects color, size, shape and structural properties of every object, including the presence of chlorophyll, to find and remove defects and FM. As the world's only belt-fed sorter that can view product entirely in-air with top and bottom sensors for full-surface inspection, VERYX is ideal for challenging shapes like large cubes and wedges.
The innovative VERYX architecture positions sensor windows, light sources and backgrounds away from product splatter so accurate inspection is sustained throughout long production cycles without operator intervention. Key's mechanical product handling systems also enhance sanitation, with features such as open designs, fully-welded frames, one-piece block pans, stainless steel bed surfaces, oil-free drives, label stand-offs and more.
VERYX features next-generation 4-channel cameras and high resolution laser sensors, which offer twice the resolution of previous sensor technology to find smaller FM and defects. Key's unique Pixel Fusion™ technology combines pixel-level input from multiple cameras and laser sensors, producing higher contrasts to find the most difficult-to-detect FM and defects.
Key designed this versatile apple sorting line to handle different apple and pear varietals and various cut shapes and sizes with minimal changeover. Recipe-driven operation enables VERYX to be changed over to handle a new product in seconds with only a couple of taps on the touchscreen. The SSR and PSG can be easily adjusted to handle different cut shapes and sizes.
VERYX can also be equipped with Key's powerful Information Analytics software, which allows users to analyze and share big data across their enterprise via an OPCUA-compliant infrastructure. Data about the sort process and about each and every object flowing through the sorter, whether the data is used to make sort decisions or not, is available to reveal patterns, trends and associations to optimize processes upstream and downstream of the sorter.
Key manufactures equipment in both the U.S. and Europe and supports customers worldwide through its global SupportPro sales and service network. For more information on Key's solutions, visit www.key.net/products/veryx.
About Key Technology, Inc.
Key Technology is a global leader in the design and manufacture of automation systems including digital sorters, conveyors and other processing equipment. Applying processing knowledge and application expertise, Key helps customers in the food processing and other industries improve quality, increase yield, and reduce cost. Key manufactures its products at its headquarters in Walla Walla, Washington, USA; Beusichem, the Netherlands; Hasselt, Belgium; and Redmond, Oregon, USA. Key's domestic facilities are certified to the ISO 9001:2015 standard. Key offers customer demonstration and testing services at five locations including Walla Walla, Beusichem, and Hasselt as well as Sacramento, California, USA and Melbourne, Australia; and maintains a sales and service office in Santiago de Queretaro, Mexico. Key is a Duravant Company.

About Duravant
Headquartered in Downers Grove, IL, Duravant is a global engineered equipment company with manufacturing, sales and service facilities throughout North America, Europe and Asia. Through their portfolio of operating companies, Duravant delivers trusted end-to-end process solutions for customers and partners through engineering and integration expertise, project management and operational excellence. With worldwide sales distribution and service networks, they provide immediate and lifetime aftermarket support to all the markets they serve in the food processing, packaging and material handling sectors. Duravant's market-leading brands are synonymous with innovation, durability and reliability. Visit www.duravant.com. 
Reader Inquiries:
Shayla Wentz
Key Technology
150 Avery Street
Walla Walla, WA 99362 USA
Tel: +1 509 529 2161
swentz@key.net
www.key.net
Reader Inquiries:
Karel Van Velthoven
Key Technology
Bedrijfsstraat 6b
B-3500 Hasselt, Belgium
Tel: +32 (0) 11 24 91 91
kvanvelthoven@key.net
www.key.net
Editor Inquiries:
Cat McBride
McBride Public Relations
5 Arastradero Road
Portola Valley, CA 94028 USA
Tel: +1 510 647 9539
connect@mcbridepr.com
www.mcbridepr.com
Related