New Snap-On Covers Simplify Fascia Installation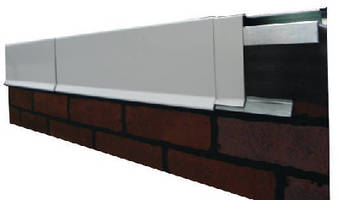 Waukesha, WI-Metal-Era, Inc., the national leader in commercial roof edge and roof ventilation solutions, introduces newly redesigned versions of their Perma-Tite System 200 Fascia and Perma-Tite System 300 Fascia.

These fascia systems have been re-engineered to eliminate time-intensive crimping by using a snap-on cover. This provides roofing contractors with significant time and labor savings. It also eliminates the need to strip-in a flashing strip, offering even more labor savings. These system improvements are available at no additional cost and with no added lead time.

Perma-Tite System 200 Fascia is ideal for fully adhered, mechanically attached or stone ballast EPDM or TPO single-ply roof systems. Those using a built-up or modified bitumen roof system should choose Perma-Tite System 300 Fascia.

Both systems have a 2 3/8 inch rise above the nailer and are available in face heights of:

o 5-1/4 inch

o 6-3/4 inch

o 8-1/4 inch

o 9-3/4 inch

o 11-1/4 inch

o 12-3/4 inch

"It's important for us to continually look for ways to improve our products. Being able to offer a snap-on fascia cover on these systems allows us to give our customers what they want: faster installations and more money in their pocket," says Tony Mallinger, Chief Operations Officer. "What is even more exciting is that we were able to do this without increasing the price or the lead time of the systems. Roofing contractors will be able to enjoy a simple, snap-on system at a competitive price point that arrives to the jobsite quickly."

Both Perma-Tite System 200 Fascia and Perma-Tite System 300 Fascia are available immediately. For more information or to request a quote visit Metal-Era's website, www.metalera.com, or call 800-558-2162.

About Metal-Era, Inc.

Celebrating over 30 years of unequaled service in the industry, Metal-Era provides a wide selection of engineered roof edge systems designed to meet the roofing industry's strictest standards. In 2006 Metal-Era introduced an innovative line of airflow products, to provide commercial buildings with proper intake and exhaust venting. Metal-Era employees and its nationwide network of experienced representatives and distributors are dedicated to providing superior products and personalized service. For more information about Metal-Era, visit www.metalera.com.

More from Electronic Components & Devices