New SmartNIC Solution Optimized for Local Instance Storage and Remote Persistent Storage
Press Release Summary: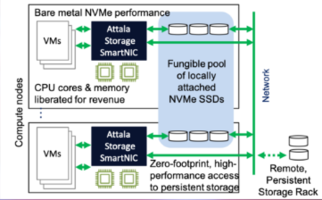 Provides local-like NVMe storage performance for both in-server and remotely deployed NVMe SSD
Accommodates service provider custom protocols for persistent storage
Ability to provide local-like storage performance, while enabling fungability and pooling of NVMe storage devices
---
Original Press Release:
Attala Systems Begins Shipment of its High-Performance Storage SmartNICs to Leading Cloud Service Providers
SmartNIC virtualizes both local and remote NVMe storage devices, simultaneously enabling higher revenues, CapEx/OpEx reductions and performance enhancements.
San Jose, Calif. (PRWeb) July 15, 2019 -- Attala Systems today announced advanced availability of its breakthrough, hardware-based Storage SmartNIC solution. The Attala Systems SmartNIC, which virtualizes and connects both instance and persistent storage in cloud data centers, provides local-like NVMe storage performance for both in-server and remotely deployed NVMe SSD scenarios. Installed into compute nodes or application servers, the Storage SmartNIC eliminates costly software cycles that limit the full value of NVMe SSD performance and that lower cloud service provider revenue due to reserved compute resources that rob from tenant use. The solution is deployed transparently to service providers' tenants and can accommodate service providers' custom protocols for persistent storage.
"As cloud service providers started to transition from hard drives and SAS/SATA SSDs to NVMe SSDs, they found that their traditional software-based architectures could not support NVMe levels of performance," said Taufik Ma, CEO of Attala Systems. "And to achieve even mediocre performance required the reservation of several CPU cores worth of compute resources. The Attala solution is optimized for both local instance storage, and for remote persistent storage. We combined several technologies – FPGA hardware, SRIOV, peer-to-peer PCIe, RDMA – to create a truly unique solution that delivers local, bare-metal NVMe performance and that boosts cloud service provider revenue by unleashing CPU cores so that they can be used by their applications."
With the explosive growth of data-intensive workloads for AI, ML, real-time analytics and big data, cloud service provider's current architectures are challenged to provide resource-efficient and high-performance storage. Current storage architectures struggle to provide both, inevitably leading to reduced performance ("brownouts") during peak loading periods and inefficient use of data center infrastructure and capital. The Attala Systems SmartNIC provides the ability to provide local-like storage performance, while enabling fungability and pooling of NVMe storage devices. By doing so, the Attala Systems SmartNIC enables new storage architectures for CSPs that provide enhanced performance, while simultaneously enabling significant capital expense (CapEx) and operational expense (OpEx) cost reductions.
"Cloud service providers are always eager for solutions that improve their performance and capital efficiencies" said Baily Li, Storage Architect at Inspur. "We are excited to be collaborating with Attala Systems to bring the Attala Storage SmartNIC to cloud customers worldwide. Combined with Inspur's server solutions, Attala's Storage SmartNIC delivers significant performance, cost and the potential for significant capacity improvements for cloud service providers."
The Attala Systems Storage SmartNIC is targeted at a variety of customers who deploy distributed server-based storage architectures. This includes Cloud Service Providers (CSPs), telecom carriers, and companies deploying private or hybrid cloud infrastructure. For these customers, the Attala Systems SmartNIC can provide significantly higher performance while reducing CPU utilization, reducing CapEx and OpEx and increasing overall server workload capacity.
About Attala Systems
Founded in 2015 with offices in San Jose, California, Attala Systems is an early-stage technology company focused on the design and development of a new generation of storage and networking infrastructure based on the use of FPGAs and cloud-focused self-learning orchestration and provisioning software. By freeing storage architectures from the multiple levels of abstraction inherent in enterprise-based storage systems, Attala significantly improves system performance reduces operational costs for cloud storage providers and those with a need for high-performance, low latency storage systems. https://www.attalasystems.com/.
Press/Media/Analyst Contact:
G2M Communications
media_relations@g2minc.com
Telephone: 858-610-9708
Contact Information
Media Relations
G2M Communications for Attala Systems
http://https://www.attalasystems.com/
+1 858-610-9708
Kimber Smith Fidler
G2M Communications
http://https://www.attalasystems.com/
+1 (775) 298 5260
More from Chemicals & Gases