New SM-5 CEMS Hg Analyzer Provides Measurement of Very Low Concentrations of Mercury in Flue Gas Emissions
Press Release Summary: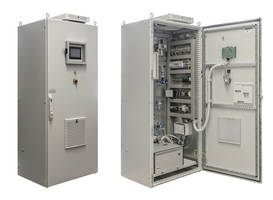 Offers dynamic switching between ranges ensuring reliable measurement of emission peaks
Operates without a calibrator and reduces maintenance time
Certified ranges are 0-30 / 0-45 / 0-100 / 0-1000 µg/m3
---
Original Press Release:
ENVEA Launches The SM-5, Its New Mercury Analyzer
ENVEA, with more than 25 years of experience in mercury measurement, introduces the SM-5 CEMS Hg Analyzer, the latest addition to its range of analyzers. The SM-5 is designed to provide accurate and reliable continuous measurements of very low concentrations of mercury in flue gas emissions.
The system has met regulatory compliance with US EPA, NESHAP, and other certifications. It offers dynamic switching between ranges ensuring reliable measurement of emission peaks. The other certified ranges are: 0-30 / 0-45 / 0-100 / 0-1000.
The SM-5 guarantees a short response time and an accurate measurement in all environments. The analyzer has been developed to guarantee a low life cycle cost (Total Cost of Ownership):
Operates without a calibrator
No need for carrier gas, dilution or air conditioning
Reduced maintenance time
Very low instrument air consumption
Technical specifications:
Accuracy: <0.1 μg/m3 over 3 months
Max. Drift: < 0.15 μg/m3 over 3 months
Certified ranges: 0 - 5 / 30 / 45 /100 / 1000 µg/m3
Product page: https://www.envea.global/s/emissions-en/mercury-monitors-emissions-en/sm-5-mercury-cems/
About ENVEA
ENVEA is a world-class manufacturer of ambient, emission and process monitoring systems, with full turnkey capabilities. ENVEA's equipment and technologies encompass gas analyzers, dust monitors, solids and flue gas flow meters, as well as environmental data processing and reporting solutions.
ENVEA is headquartered in Poissy (France) and has over 700 FTEs within R&D centers, production facilities and Sales & Services local business units across France, the United Kingdom, Germany, Italy, the USA, India, and China. Its broad products range and monitoring solutions are supported worldwide by one of the largest sales and service organizations, through its exclusive and dynamic distribution network.
Envea's US headquarters is located in Geneva, Illinois. For sales please email sales.usa@envea.global or call 630-262-4400
Contact This Company Download Spec Sheet
More from Communication Systems & Equipment