New Skived Fin Heat Sinks Features 0.5 mm Thick Fins
Press Release Summary: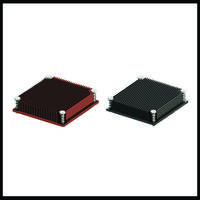 Features plastic push pins for insertion and integrity of the PCB
Provides improved thermal performance
Ideal for applications that require thin fin density
---
Original Press Release:
Richardson RFPD Announces Availability of Skived Fin Heat Sinks from Wakefield-Vette
Designed to support the latest trends in renewable energy, industrial electrification and transportation
June 17, 2019 – Geneva, Ill.: Richardson RFPD, Inc. announced today the availability and full design support capabilities for a portfolio of skived fin heat sinks from Wakefield-Vette.
These standard copper and aluminum skived fin heat sinks offer an alternative to extruded heat sinks for applications that require a thin fin density that cannot be achieved with extrusion technology. Skived heat sinks typically have 0.5 mm (0.020-inch) thick fins.
Skived heat sinks are produced using a series of sharp knives that pass over the copper or aluminum material, producing a thin curl of metal which is then bent vertically to form the fin. Skived fins are produced from a bar of material which is approximately 16-feet in length and then cut to size as required by the final application. The final heat sink can be machined using normal fabrication techniques.
Wakefield-Vette's SKV Series offers standard off-the-shelf solutions. Custom solutions are also available.
Key features of the SKV Series include:
Plastic push pins for easy insertion and integrity of the PCB
No interface between fins and base
Minimal tooling cost for non-standards
Improved thermal performance
To find more information, or to purchase these products today online, please visit the Wakefield-Vette Skived Fin Heat Sinks webpage. The devices are also available by calling 1-800-737-6937 (within North America); or please find a local sales engineer (worldwide) at Local Sales Support. To learn about additional products from Wakefield-Vette, please visit the Wakefield-Vette storefront webpage.
About Richardson RFPD
Richardson RFPD, an Arrow Electronics company, is a global leader in the RF, wireless, IoT and power technologies markets. It brings relationships with many of the industry's top radio frequency and power component suppliers. Whether it's designing components or engineering complete solutions, Richardson RFPD's worldwide design centers and technical sales team provide comprehensive support for customers' go-to-market strategy, from prototype to production.
More information is available online at www.richardsonrfpd.com. Follow Richardson RFPD on Twitter atwww.twitter.com/Richardson_RFPD.
To subscribe to Richardson RFPD's New Products e-newsletter, visit www.richardsonrfpd.com/subscribe.
For Details Contact:
Dave Rossdeutcher
Global Product Management Director – Energy & Power
drossdeutcher@richardsonrfpd.com
P 630 262 6800
More from Cleaning Products & Equipment