New SK 02040.1 Helical Worm Gear Unit Delivers an Output Torque up to 100 Nm
Press Release Summary: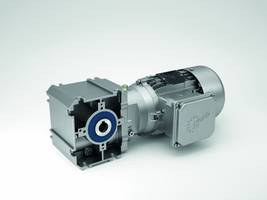 Nord's SK 02040.1 Helical Worm Gear Unit is suitable for conveyors in food and beverage, bottling, manufacturing, warehousing and packaging applications. Units offer a power range from 0.12 to 1.1 kW and speed ratios ranging from 5.3:1 to 330:1. SK 02040.1 unit comes in one-piece die-cast aluminium UNICASE™ housing that increases the strength and rigidity.
---
Original Press Release:
NORD Expands Helical Worm Gear Line with New SK 02040.1
High-strength aluminium alloy delivers significant savings over competitive products
Manufacturers across a several industries will benefit from NORD DRIVESYSTEM's newest helical-worm gear unit. The redesigned two-stage SK 02040.1 is ideal for conveyors in food and beverage, bottling, manufacturing, warehousing and packaging applications.
The NORD SK 02040.1 gear unit is made from high-strength aluminium alloy. This one-piece die-cast aluminium UNICASE™ housing provides maximum strength and rigidity with low weight. In addition, a new universal mounting design offers significant customer advantages.
Jim Alt, Mechanical Product Manager at NORD, said the SK 02040.1 design is a money saver. He explained, "The NORD gear unit provides nearly 900 lb-in of torque – which is ideal for countless conveyor and manufacturing applications. It can be quickly installed and offers a smart universal foot / flange housing, and accessories for foot, flange or torque arm mounting. Plus, the aluminium is more than 30 percent lighter than cast iron."
Alt added, "By using aluminium, the NORD SK 02040.1 helical worm gear unit is priced significantly below the product it's replacing – and we expect customers could see double-digit savings compared to competitive products." The gear unit can also be ordered with NORD's nsd tupH™ sealed surface conversion process, which provides comparable benefits of stainless steel at a 30-50 percent cost savings.
The new SK 02040.1 gear unit offers a wide power range from .16 to 1.5 HP (0.12 to 1.1 kW) and delivers output torque up to 885 lb-in (100 Nm). The wide range of speed ratios (5.3:1 to 330:1) enables optimum adaptation to the customer's requirements.
All NORD helical worm products are available with solid, keyed or keyless hollow bores. The SK 02040.1 geared unit also offers input options to a variety of motors, including direct mounting, NEMA and IEC. The new SK 02040.1 unit is a drop-in replacement to the previous SK 02040 cast iron product.
For a product sample, product information or a prototype, contact your local NORD sales representative at www.nord.com/locator. To configure NORD helical worm units online, visit https://hubs.ly/H0cQ-NW0.
Deep link: www.nord.com/cms/de/product_catalogue/geared_motors/worm_geared_motors/pgop_wor m_geared_motors.jsp
LinkedIn profile: https://www.linkedin.com/company/getriebebau-nord-gmbh-&-co-kg/
LinkedIn links: @Getriebebau NORD GmbH & Co. KG
Twitter: https://twitter.com/NORD_Drive
Twitter links: @NORD_Drive ?
YouTube: https://www.youtube.com/user/NORDDRIVESYSTEMS
Download area: http://www.koehler-partner.de/project/getriebebau-nord-presseservice/
Company background
With more than 3,600 employees, NORD DRIVESYSTEMS has been developing, producing and selling drive technology for more than 50 years, and is one of the global leaders of full-service providers in the industry. In addition to standard drives, NORD delivers application-specific concepts and solutions for special requirements such as energy-saving drives or explosion-protected systems. In the 2017 financial year, annual sales amounted to $730 million. NORD has subsidiaries and sales partners in 89 countries worldwide. The extensive sales and service network guarantees optimal availability, enabling short delivery times and customer-oriented service. NORD produces a very diverse range of drives for torques from 88.5 to 2,212,000 lb-in (10 to 250 kNm), provides electric motors in the power range of .16 to 1,341 HP (0.12 kW to 1,000 kW), and manufactures frequency inverters with the required power electronics of up to 200 HP (160 kW). Inverter solutions are available for conventional control cabinet installations as well as for decentralized, fully-integrated drive units. 
Contact:
NORD Gear Corp – United States
Member of the NORD DRIVESYSTEMS Group
800 NORD Drive
PO Box 367
Waunakee, WI 53597
Phone: (888) 314-6673
Fax: (800) 373-6673
info.us@nord.com
NORD Gear | PO Box 367 | 800 Nord Dr. | Waunakee, WI 53597
Thomas McLaughlin
Phone: 608-849-7300 x 2957
Fax: -
Thomas.McLaughlin@nord.com
Getriebebau NORD GmbH & Co. KG
Getriebebau-Nord-Straße 1
22941 Bargteheide/Hamburg
Germany
Jörg NIERMANN
Phone: +49 45 32 / 2 89 -0
Fax: +49 45 32 / 2 89 -22 53
Joerg.Niermann@nord.com 
More from Services