New SiteWatch IoT Device Gives Predictive Warning of Impending Machine Failure
Press Release Summary: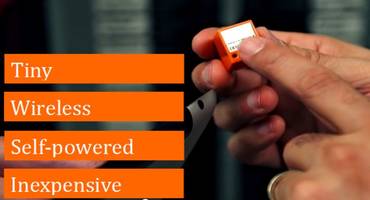 The SiteWatch IoT Device consists of wireless sensors that generate their own power through electromagnetic induction. The device incorporates non-energy data such as temperature, pressure, flow and vibration. It calculates production costs and investment ROI accurately and identifies energy waste. The SiteWatch allows managers to continuously view operating patterns and energy use of their equipment.
---
Original Press Release:
Applied Energy Partners is Pleased to Announce the Launch of SiteWatch
Malvern, PA - December 1, 2018 - Applied Energy Partners is pleased to announce the launch of SiteWatch, an affordable IoT technology that enables managers to view the operating patterns and energy use of their equipment continuously – at a level of detail you've never seen before.
"SiteWatch is a game changer," says Applied Energy Partners President Kit Gutteridge. "This patented technology is the future of Energy and Operations Management."
SiteWatch's immediate benefits include:
Identifying energy waste – typically 5%-20% annual savings
Predictive warning of impending machine failure
Optimizing equipment settings and processes
Calculating production costs and investment ROI accurately
Easy to Install
SiteWatch uses tiny, inexpensive, wireless sensors. The sensors require no batteries; they generate their own power via electromagnetic induction. Because the sensors simply clip onto the electrical circuit, they are fast and easy to install… up to 75 sensors can be installed in a single day, with no need to interrupt the power supply.
Energy and Non-Energy data
SiteWatch can incorporate non-energy data, as well, including temperature, pressure, flow, and vibration, incorporating all the input into a consolidated set of intuitive reports and alerts. 
To accomplish this, SiteWatch can incorporate data from
Clip-on SiteWatch sensors
New hard-wired sensors as required
Legacy hard-wired sensors
Contact Kit Gutteridge at kgutteridge@appenergy.com or 484-802-2422
Applied Energy Partners is an energy brokerage and consulting firm assisting clients with energy procurement and energy conservation. Applied Energy Partners currently represents more than 250 clients, managing almost 2 Billion kWh of electricity and 10 Million Dekatherms of natural gas annually.
More from Thermal & Heating Equipment