New SIPLACE SX Placement Platform Supports Passive Clinching Tool
Press Release Summary: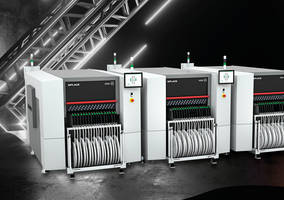 SIPLACE SX is THT-capable and supports additional inspection step after the placement process
Capable of placing components that are up to 50 mm tall and weighing up to 240 grams with forces of up to 100 newtons
Includes multi-touch monitor, smart automatic functions in the software, closing system for the cover and interface for predictive maintenance which simplifies and accelerates the operation
---
Original Press Release:
ASM Introduces The New Generation of The SIPLACE SX
Significantly more performance, flexibility and openness
Suwanee (USA), October 8, 2020 – New placement head versions, a more powerful vision system, open interfaces for special feeders and many new software functions are the improvements that set the latest version of the SIPLACE SX placement platform apart. The SIPLACE SpeedStar CP20 raises the placement performance to up to 43,250 components per hour with even more accuracy and an expanded component spectrum. And the two other placement head options, the SIPLACE MultiStar and the SIPLACE TwinStar, can handle larger and more complex components and place them with a force of up to 100 newtons. The blue light of the new camera system delivers extremely contrasty images and allows for more component-specific illumination settings and multiple exposures from which 3D images can be computed for improved process control. Other innovations include the OSC Package for odd-shaped components and the Passive Clinching Tool for THT processes. A multi-touch monitor and many smart support functions make the machine's operation easier and more intuitive.
"With its interchangeable gantries and its unique capacity-on-demand, the SIPLACE SX has set the standard for flexible electronics production since it first hit the market. With the new SIPLACE SpeedStar, our developers have achieved something that is truly unique. The placement head is not only much faster, but also more accurate, all while accommodating an even greater component spectrum," explains Alexander Hagenfeldt, Head of Product Marketing at technology leader ASM Assembly Systems. "The new SIPLACE SX is THT-capable and features a clinching option. To take full advantage of the SIPLACE SX's flexibility for OSCs and special components, the Open Third-Party Feeder Interface makes it possible to integrate special third-party feeders quickly and easily."
In concrete terms, the new SIPLACE SpeedStar features up to 17 percent more placement performance, 12 percent more accuracy, and a component spectrum that is 37 percent greater. These and other improvements made to the SIPLACE MultiStar and SIPLACE TwinStar heads deliver more yield, productivity and efficiency in flexible electronics production.
Maximum openness
The current SIPLACE SX is already able to handle a huge spectrum of regular and odd-shaped components. The latest version is now capable of placing components that are up to 50 mm tall and weighing up to 240 grams with forces of up to 100 newtons. This opens up an entirely new set of possibilities on SMT lines, even extending to THT processes which the SIPLACE SX now supports with a Passive Clinching Tool and an additional inspection step after the placement process.
The new vision system with its component-specific settings guarantees optimal process control. On unusually large and complex components, the machine can check the condition of pins and other characteristics in addition to the component's shape and size by turning multiple images into 3D pictures and inspecting user-defined features on all of its sides.
Even the feeders are more flexible because the Open Third-Party Feeder Interface makes it easy for third-party manufacturers or others to integrate special feeders. And the SIPLACE PowerConnector X supplements other SIPLACE options like the SIPLACE GlueFeeder X and the SIPLACE MeasuringFeeder X on the changeover table.
A multi-touch monitor, new smart automatic functions in the software, a new closing system for the cover, new interface for predictive maintenance and many other software improvements simplify and accelerate the operation of the new SIPLACE SX.
For more information about the new SIPLACE SX and its strengths in high-mix electronics production environments, visit https://www.asm-smt.com/en/products/placement-solutions/siplace-sx/.
The SMT Solutions segment within the ASM Pacific Technology Group
The mission of the SMT Solutions segment within the AMS Pacific Technology Group (ASMPT) is to implement and support the smart SMT factory at electronics manufacturers worldwide.
ASM solutions such as SIPLACE placement systems and DEK printing systems support the networking, automation and optimization of central workflows with hardware, software and services that enable electronics manufacturers to transition to the smart SMT factory in stages and enjoy dramatic improvements in productivity, flexibility and quality.
Since maintaining close relationships with customers and partners is a central component of ASM's strategy, the company has established the SMT Smart Network as a global forum for the active exchange of information between and with smart champions. In addition to being a founding member of the ADAMOS joint venture for the development of an IIoT platform for manufacturing companies, ASM is establishing together with other SMT manufacturers the open HERMES standard as a successor to the SMEMA standard for M2M communication in SMT lines.
For more information about ASM, visit www.asm-smt.com.
ASM Pacific Technology Limited
Headquartered in Singapore, ASMPT (HKEX stock code: 0522) is a global technology and market leader in leading-edge solutions and materials for the semiconductor assembly and packaging industries. Its surface mount technology solutions are deployed in a wide range of end-user markets including electronics, mobile communications, automotive, industrial, and LED. The company's continuous investments in research and development help to provide its customers with innovative and cost-efficient solutions and systems that enable them to achieve higher productivity, greater reliability and enhanced quality.
For more information about ASMPT visit www.asmpacific.com
Press Contacts:
AMCAS ASM Press Office
ASM Assembly Systems GmbH & Co. KG
Mark Ogden
Tel.: +1 (770) 797 3189
E-mail: ogden.mark@asmpt.com
Website: www.asm-smt.com
Global ASM Press Office
ASM Assembly Systems GmbH & Co. KG
Susanne Oswald
E-mail: susanne.oswald@asmpt.com
Website: www.asm-smt.com
More from Packaging Products & Equipment