New Single-strap Hollow-wall Anchor Helps to Prevent Jammed Toggles, Broken Straps and Misaligned Bolts
Press Release Summary: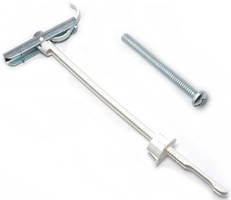 Installs into drywall and hollow CMU up to 2 1/8" thick with a 2 1/2" bolt
Features bolt sizes of 3/16"–24 thread and 1/4"–20 thread
Simple one-strap design holds toggle unspoiled aligned for simple bolt insertion
---
Original Press Release:
FlipToggle® - The Next Generation of Hollow Wall Anchor
"The Flip Toggle is a single-strap hollow-wall anchor that represents the next generation of hollow wall anchors," announced Bob Carlisle, president and founder of Concrete Fastener Systems, Incorporated. "This anchor has a simple design that can help prevent jammed toggles, broken straps and misaligned bolts that slow down the application process."
Key Features
Installs into drywall and hollow CMU up to 2 1/8" thick with a 2 1/2" bolt
Bolt sizes: 3/16"–24 thread and 1/4"–20 thread
Toggle is secure for simple insert into a predrilled hole
Simple one-strap design holds toggle perfectly aligned for easy bolt insertion
The collar ensures centered bolt placement in the hole and does not embed the bolt into the drywall, eliminating sagging
Installation
FlipToggle installs in four easy steps:
Drill a ½" hole and flip head of Flip Toggle to align with strap
Insert Flip Toggle into hold, pull strap to flip toggle flat against the surface
Push collar into hole until cap is flush with surface then pull strap
Snap off strap flush with collar and insert bolt through the fixture into the anchor
Once inserted, the spring tab flips the toggle into the right position so that when the collar is tightened the anchor is ready for the bolt.
Availability
The Simpson Strong-Tie brand FlipToggle® is now being sold exclusively through Concrete Fastening Systems, Incorporated at www.concretefasteners.com and www.amazon.com.
Concrete Fastening Systems has over 40 years of experience selling extensive lines of high quality fasteners. Ordering Flip Toggles direct from the manufacturer at www.concretefasteners.com or www.amazon.com can also save up to 70% over retail pricing with orders shipped on the same business day received.
More from Software