New Silicon Heating Element Used for Thermal Peak Loads of up to 270 Degree Celsius
Press Release Summary: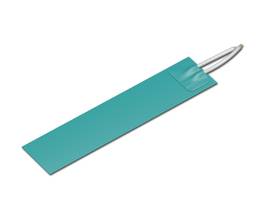 Provides above average high temperature stability
Designed for use within a temperature window of -60 °C to +200 °C
Available in conventional standard formats as well as customised or product-specific designs with cut-outs and perforations
---
Original Press Release:
Quick Transfer and Homogeneous Distribution
New silicon heating elements from hotset improve flexible surface heating
Sophisticated heat conductor geometry and application of an extremely thermally conductive special silicon are amongst the determining quality features of the newest generation of silicon heating elements from hotset. This gives users in railway technology, the food industry and telecommunications in particular, a highly efficient solution for surface heating of the innovative thermodynamic systems provided by well-known companies. The flexible mats ensure above-average uniform heat distribution, while easily adapting to curvatures and edges with reduced energy requirements.
How to reliably protect parabolic antennae and piping from frost? How to keep liquid chocolate in a flowing state? And how to ensure that switch contacts in railway tracks are kept from icing? The technical answer to all these questions - and many others - is the newest generation of hotform silicon heating elements from the manufacturer from Lüdenscheid. These flexibly installable, thin mats are now available in conventional standard formats (rectangular, square, etc.) as well as customised or product-specific designs with cut-outs and perforations. Unlike many presently available heat mats, the new hotform silicon elements offer many significant improvements. For instance the special coiling of the integrated heat conductor – this is the technological core element of the mats - is an added innovation resulting from the most recent findings from a university research laboratory that hotset has been collaborating with for many years. The result is heating conductor geometry that provides an exceptionally homogeneous distribution of heat in the surface area. Stephan Westphal, hotform Product Manager, provides an idea of what this means in practice: "Whether a surface is flat or arched, whether it has edges or curves - our new silicon heating elements always generate an even, balanced warm or hot area that does not exhibit any major temperature differences. This is very crucial, for instance in process and fluid technology."
Very reactive formula
The second major advantage of the new hotform heating mats from hotset is the special formula of the silicon being used. it is a highly conductive and thereby quick reacting material. In other words: This special silicon transfers the heat generated from the heat conductor coils to the surface being thermoregulated with exceptional speed. As a result, the overall energy expenditure for the whole heat transfer also lowers! "Moreover, the heating elements can be designed to be much thinner than previous mats thanks to the improved silicon; so far, our lower limit is just 0.4 millimetres", Stephan Westphal adds. In addition, the UV-resistance and high ageing and weather resistance of the special silicon are nearly natural features.
Another important advantage of the new hotform silicon heating elements from hotset is their aboveaverage high temperature stability. Although they are designed for use within a temperature window of -60 °C to +200 °C, they can also be utilised for thermal peak loads of up to 270 °C. "Under ideal operating conditions, both the special silicon as well as the interior heat conductors are suitable for these temperature ranges", Stephan Westphal says assuredly. With this high level of temperature stability, new silicon heating elements for application areas previously beyond the realm of what was possible are now being considered. (hotset test series are currently being performed with various household devices - for instance waffle irons.)
Outfitted with all the certificates
The new hotform heating elements from hotset are generally very easy to install and comply with a large number of important industrial standards and directives. EN 45545 in particular is relevant for use in railway technology (switch de-icing, step-area heating, etc.) and FDA-conformity is essential for installation in food technology systems and processes. In addition, water resistance as per IP67 is of importance for many applications in telecommunications, information technology and microelectronics. 
Contact This Company Download Spec Sheet
More from Agricultural & Farming Products