New Signet 9950 Dual Channel Transmitter performs two measurement reading simultaneously.
Press Release Summary: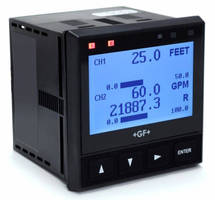 Offering the user dual functions of a transmitter and a controller, Signet 9950 is a single component alternative to multiple single channel transmitters in applications that require several measurements and a local display. Dual channel enables connection to two similar sensor measurement types like flow and flow or pH and ORP. With multiple relay modes that allow up to three signals to be used to control a single relay, 9950 also features a backlit dot matrix display.
---
Original Press Release:
New Transmitter's Dual Measurement Capapility Offers Cost-Saving Convinience
GF Piping Systems has introduced the new Signet 9950 Dual Channel Transmitter that enables two measurement readings in one transmitter. This powerful feature offers cost savings and convenience by eliminating the necessity of multiple single channel transmitters in applications that require several measurements and a local display. Advanced functions provide users the setup ease of a transmitter and the versatility of a controller.

With its dual channel capability, users can connect two of the same sensor measurement types such as flow and flow, or two different types, such as pH and ORP. Additional versatility is provided with its capability for multi parameters through support of the complete line of Signet flow and analytical sensors, as well as other devices with a 4 to 20mA current loop output when using the Signet iGo module. Large backlit dot matrix display with simplified menus illuminates both measurement readings simultaneously.

The 9950 also provides sophisticated features to support a variety of functions for complete flexibility. The unit's derived functions allow control of relays and current loops with the sum, difference, or ratio of two like measurements. Multiple relay modes allow up to three signals to be used to control a single relay, which can be done in any combination of analog and binary inputs. Time based relay modes enable setting relay activation on a repeating basis in minutes and on specific days and times during the week.

"The 9950 offers an extremely economical solution for applications requiring multiple flow or analytical measurements," says Dave Vollaire, Instrumentation Product Manager for GF Piping Systems. "With the 9950, fewer transmitters are required to achieve the required result without any add on cards or modules."

The new transmitter meets CE, UL, and CUL standards and is suitable for a wide variety of applications including water/wastewater treatment systems, reverse osmosis, deionization, media filtration, chemical manufacturing/addition, air/fume scrubbers, cooling towers, metal and plastic finishing, aquaculture/aquarium and pool and spa.

About GF Piping Systems

GF Piping Systems supplies a full range of plastic pipe, fittings, valves, actuators, rotameters, fusion machines, secondary containment, heat exchangers, custom products, and sensors and instrumentation for industrial process control.

For further information, please contact:

GF Piping Systems,
9271 Jeronimo,
Irvine,
CA 92618-1904 USA;
Toll Free (800) 854-4090,
Fax (714) 731-6923;
e-mail: us.ps@georgfischer.com;
Web: www.gfps.com

Contact Information:

Georg Fischer LLC USA
9271 Jeronimo
Irvine, CA 92618-1904
www.gfps.com
More from Services