New Shrink-fit Connections are Quick to Assemble and Disassemble
Press Release Summary: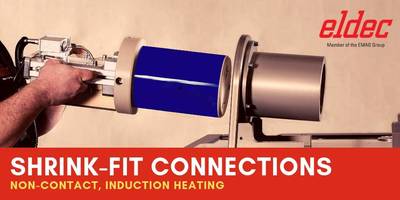 Adapted for joining electric motor housings
Used for joining motor shafts and rotors
Short circuit ring brazing and other brazing applications
---
Original Press Release:
Simplify Assembly Using Shrink-Fit Connections
Non-contact, induction heat
Since induction heat can uniformly and gently heat parts without overheating any one area, shrink-fit connections are simple to assemble and disassemble.  The process can be adapted for:
Joining electric motor housings
Joining motor shafts and rotors
Short circuit ring brazing
Other brazing applications.
We discuss several examples in detail and have an animation that shows how the process has been used by several electric motor manufacturers on our website: www.inductionheatingexperts.com
If you would like to learn more about how to integrate this process into your manufacturing operation, please give us a call.
eldec LLC
3355 Bald Mountain Rd., Unit 30
Auburn Hills, MI 48326 USA
Phone: (248) 364-4750
Email: info@eldec-usa.com
Website for USA, Canada and Mexico: www.inductionheatingexperts.com
Worldwide website: www.eldec.net
Press Release Contact:
Laurie Applegate
Email: lapplegate@eldec-usa.com