New Shark 250 Power Meter Comes with Customizable Cyber Secured Encrypted Configuration
Press Release Summary: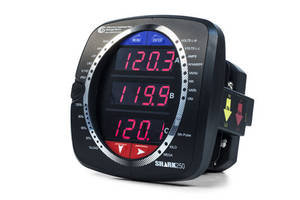 Shark® 250 Power Meter is available in transducer configuration for DIN rail mounting. Unit is offered with improved revenue metering functions such as CT/PT compensation, transformer/line loss compensation and test mode. Meter supports Level 2 DNP3, IEC 61850 and Modbus RTU/ASCII/TCP protocols. Unit features RS485, USB ports and optional Ethernet ports. Unit comes with ANSI C12.20 Class 0.2% and IEC 62053- 22 CL 0.2S accuracy standards.
---
Original Press Release:
EIG Releases Cyber Secured Shark® 250 Power and Energy Meter for Utility and Critical Industrial Substations
WESTBURY, N.Y., July 18, 2018 /PRNewswire/ -- Electro Industries/GaugeTech (EIG) announces the release of its latest Shark® Series meter – the Shark® 250 power meter with enhanced revenue metering features, multiple serial or Ethernet ports for redundant communication, a large memory capacity for more significant load studies and a Cyber secured configuration. Its multiple advanced features include:
0.2% accuracy that meets ANSI C12.20 Class 0.2% and IEC 62053-22 CL 0.2S accuracy standards.
Enhanced revenue metering features, including CT/PT compensation, Transformer/Line Loss compensation, Test Mode, and Time of Use.
Standard RS485 and USB ports and optional Ethernet and serial ports.
Level 2 DNP3 and IEC 61850 Protocol support as well as Modbus RTU/ASCII/TCP.
Multi-level, customizable cyber secured encrypted configuration that prevents tampering and hacking of your power system data.
Rugged design for harsh environments, with standard conformal coating on PCBs, and superior surge withstand capability.
Extensive upgradable I/O.
The meter also comes in a transducer only configuration for DIN rail mounting. The Shark® 250T transducer offers the standard RS485 port and the optional communication and I/O.
For additional information on the Shark® 250 meter, visit its webpage:
https://electroind.com/product-info/shark-250-power-and-energy-meter-for-utility-and-critical-industrial-substations/
CONTACT: Neena Deibler, 516-545-1731, www.electroind.com
Web Site: http://www.electroind.com
More from Software