New SG2 Series Printer/Cutters Available in 64-inch, 54-inch and 30-inch Models
Press Release Summary: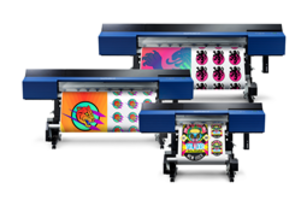 SG2-640, SG2-540 and SG2-300 are designed to provide unsurpassed image quality and productivity
Delivers all the color, performance and reliability
Suitable for signs, banners, displays, and die-cut labels/decals to window graphics, vehicle wraps, heat transfer apparel and interior decor applications
---
Original Press Release:
Roland DGA Expands Award-Winning TrueVIS Wide-Format Printer/Cutter Lineup with New Value-Packed SG2 Series
Next-Generation SG2-640, SG2-540 and SG2-300 Boast Innovative New Features, Specially Formulated TR2 Inks and TrueVIS Quality, Reliability
Irvine, Calif. (PRWeb) October 09, 2019 -- Roland DGA Corporation, a leading provider of wide-format printers, printer/cutters and other advanced digital imaging devices, has announced the addition of new SG2 series printer/cutters to its second-generation TrueVIS™ series. Available in 64-inch, 54-inch and 30-inch models, the SG2 series offers many of the innovative features and capabilities of Roland's award-winning TrueVIS VG2 inkjets at extremely attractive pricing. In addition, the SG2 printer/cutters with TR2 ink have earned print durability warranty program certifications from the industry's top media manufacturers, including the 3M MCS Warranty and Avery Dennison's ICS Performance Guarantee.
Like all Roland TrueVIS series printer/cutters, the new SG2-640, SG2-540 and SG2-300 are designed to provide unsurpassed image quality, versatility, productivity and ease of use for wide-format graphics providers. With its two FlexFire™ print heads, new TR2 eco-solvent inks in a CMYK configuration, and low operating costs, the SG2 makes TrueVIS performance and reliability more affordable than ever.
To take full advantage of its superior color reproduction capability and the wide color gamut provided by Roland's specially formulated TR2 ink, the SG2 includes a new True Rich Color preset. Now, vibrant color can be combined with neutral grays, smooth gradations and natural skin tones to create stunning graphics. The SG2 series' outstanding print capabilities and accurate integrated cutting make these value-packed inkjets unbeatable for a wide range of applications ranging from signs, banners, displays, and die-cut labels/decals to window graphics, vehicle wraps, heat transfer apparel, and interior décor.
"Our SG2 series delivers all the color, performance and reliability that new and growing print service providers need to build their businesses at an exceptional price," said Daniel Valade, Roland DGA Product Manager, Color Products and Cutters. "These efficient, extremely versatile inkjets give those just entering the sign and graphics market the capabilities they need to succeed, while allowing existing shops to expand their product offerings and maximize profitability."
The SG2's myriad technical improvements include a new automatic pinch roller systems requiring minimal operator intervention, a Multiple Print function that allows for highly accurate automated printing and cutting without requiring the use of crop marks, and a precision PerfCut function for producing high quality die-cut ready-made labels/decals without the need for trimming. A new optional take-up unit that supports two modes according to the type of media being used and increases take-up stability for smooth post- processing further enhances performance and value.
To ensure optimum image quality, the SG2 printer/cutter's FlexFire print heads incorporate new waveform technology to control the precise firing of TR2 ink droplets. Simultaneous control of variable droplets results in unparalleled image quality, print after print. In addition, the SG2 is equipped with innovative features that minimize running costs and increase profitability, including a newly developed ink delivery system that automates maintenance sequences to reduce ink consumption by up to 54 percent.*
All TrueVIS SG2 models come with Roland's VersaWorks® 6 RIP software – the company's most powerful RIP to date. VersaWorks 6 boasts the latest Harlequin® dual core engine with PDF 2.0 and native 64-bit processing, a new icon-based interface with drag-and-drop functionality, and a host of additional tools that optimize printer functionality and ease of use.
To learn more about Roland's new TrueVIS SG2 series wide-format printer/cutters, visit https://www.rolanddga.com/SG2. For more information on the complete Roland DGA product line, visit https://www.rolanddga.com.
*In comparison with the previous SG series using TR inks.
About Roland DGA Corporation
Roland DGA Corporation serves North and South America as the marketing, sales, distribution and service arm for Roland DG Corporation. Founded in 1981 and listed on the Tokyo Stock Exchange, Roland DG of Hamamatsu, Japan is a worldwide leader in wide-format inkjet printers for the sign, apparel, textile, personalization and vehicle graphics markets; engravers for awards, giftware and ADA signage; photo impact printers for direct part marking; and 3D printers and CNC milling machines for the dental CAD/CAM, rapid prototyping, part manufacturing and medical industries. For more information, visit https://www.rolanddga.com.
About Roland DG Corporation
Roland DG Corporation is the world's leading provider of digital printing solutions. The company's inkjet printers, printer/cutters and cutting machines are widely used to create a broad range of promotional items including banners, signs, vehicle graphics, stickers and labels, and to provide customization services for apparel and personal items like smartphone cases. Recently, Roland DG has embarked on a promising new retail frontier by capitalizing on individuals' increasing desire to create their own, uniquely designed and decorated items. The company's COTO business division has developed proprietary design and print management software which enables customers to design their own gifts, apparel and treasured mementos, and to enjoy an unforgettable creative experience. For more information, visit https://www.rolanddg.com/en.
Contact Information
Marc Malkin
Roland DGA Corporation
http://https://www.rolanddga.com
800-542-2307
More from Computer Hardware & Peripherals