New SeVision 3D GX-WA Projection Screen Comes with PVC Surface with High Gain Optical Coating
Press Release Summary: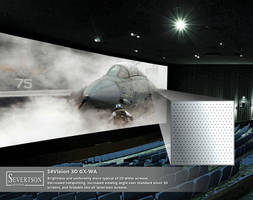 Offers a gain of 1.4-3.0 on axis ±0.2 and a signal to noise ratio of 100-200+:1
Available with panel dimensions of 62 in. width and 12 mm thickness with perforation options including standard, micro, digital and non-perf
Designed to increase the viewing angle with the reduction of hotspotting and packed in rolled (tube only, tray and tube, full crate) or folded (crate)
---
Original Press Release:
Severtson Screens Features New Enhanced Cinema Screen Coating During CinemaCon 2019
The SēVision 3D GX-WA Coating Offers Increased Uniformity & Brightness Typically Seen More Often on 2D White Screens, Decreases Hotspotting, While Also Offering an Increased Viewing Angle Over Standard Silver Screens
Mesa, Ariz., March 5, 2019 – Severtson Screens (www.severtsonscreens.com), a global leader in innovative and quality projection screens for the cinema, commercial, pro AV, and home theater markets, is proud to announce it will feature its recently introduced enhanced SēVision 3D GX-WA projection screen coating during CinemaCon 2019, held in Las Vegas, Nev. from April 1-4 at Caesars Palace, booth #2221A.
"Our enhanced SēVision 3D GX-WA projection screen coating is a brilliant example of Severtson Screens' continued quest for quality, improvement, and innovation," explained Toby Severtson, president and CEO of Severtson Corp. "The SēVision 3D GX-WA coating provides the benefits of the standard SēVision 3D GX coating, but offers increased uniformity and brightness typically seen more often on 2D white screens. It is also engineered specifically to increase the viewing angle over standard silver screens while also reducing hotspotting."
Specifications of the enhanced SēVision 3D GX-WA include:
Surface: smooth PVC with a high gain optical coating for perfect texture and gain uniformity
Gain: 1.4 – 3.0 on axis +/- 0.2
Signal to noise ratio: 100 – 200+:1
Available perforations: standard, micro, digital, non-perf
Materials: panel width 62-inches; thickness 12mm
Edges: 6-inch standard grommet spacing (optional 9in., 4.5in, 3in. spacing)
Webbing: 2.5-inch standard
Packaging: rolled (tube only, tray & tube, full crate); folded (crate)
"Like all Severtson projection materials, SēVision 3D GX-WA offers the unique benefit of also being foldable, without any damage to the projection surface," added Dan Maxwell, Severtson Corp. V.P. & Chief Operating Officer. "This allows it to be transported in a smaller crate and at a fraction of the cost, as well as to locations around the world where shipping was previously far more difficult and expensive."
Severtson Corporation is a member of the Giant Screen Cinema Association. They have manufactured cinema screens for theaters in countries all over the world, including the United States, Mexico, Canada, Korea, Japan, Brazil, Indonesia, Singapore, Spain, Germany, France, New Zealand, Australia, Netherlands, Thailand, Scotland, China, Russia, and many more. To meet the challenge of creating extremely large screens, Severtson Corporation designed a robotic spray-arm application system to paint its high-performance optical coating in-house on screens as large as 67.75ft.x 150ft. (20.7m x 45.8m). It is currently the largest in-house cinema screen optical coating system in the world. Severtson Screens certifications and partners include Technicolor, MasterImage, Dolby, Volfoni, LightspeeD & DepthQ, and RealD (www.severtsonscreens.com/certifications).
Having celebrated its 30th anniversary in 2016, Severtson Corporation continues to be a global leader in innovation and quality. The Severtson family's extensive experience in manufacturing small home theater screens and large cinema screens has given Severtson Corporation the expertise to meet the needs of the professional and consumer AV markets for both indoor applications as well as large outdoor venues. With its three Arizona-based production facilities and its state-of-the-art robotic application system, Severtson has massive production capabilities and an unusually wide array of screens. The screens range in size from massive movie theaters, comfortable home theaters, and everything in between.
Visit severtsonscreens.com, call 480-610-5155, or email sales@severtsonscreens.com for more information.
About Severtson Screens
Mesa, Ariz.-based Severtson Screens, which celebrated its 30th anniversary in 2016, is an award-winning global leader in innovative and quality projection screens in the home theater, pro AV, and cinema markets. Its low rejection rate coupled with the high quality of all its products has made Severtson Corporation the industry standard for quality and customer service worldwide. From its unlikely origins in the family kitchen to today's three modern production facilities, Severtson Corporation has remained committed to the principles of innovation and uncompromising quality that have made them who they are today.
Media Contact:
Charlie Leib
CRL Public Relations
T: 480-380-0673
charlie@crl-pr.com
More from Mechanical Components and Assemblies