New Sensors and Analyzers Provide Precise Measurement of Water-based Chemicals
Press Release Summary: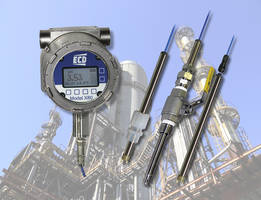 S88 pION Sensors monitor and detect ammonia, ammonium, bromide, cadmium and more
Can be configured to measure pH, ORP, dissolved oxygen, conductivity or resistivity
X80 universal transmitter features a large, simple viewable 128-x-64 pixel LCD display
---
Original Press Release:
ECD Specific Ion (pION) Analyzer for Hazardous Areas Available as ATEX and IECEx or FM Safety Approved
Rugged Analyzer Goes Where Others Can't in Aquaculture, Food/Beverage, Chemical, Oil/Gas, Electronics, Metals, Mining, Pulp/Paper, Water, Wastewater
Anaheim, CA—March 30, 2021—Designed for demanding hazardous industrial environments, the rugged S88 Specific Ion Sensors and the intelligent X80 Universal Transmitter Analyzer from Electro-Chemical Devices (ECD) are available as ATEX and IECEx or FM approved to provide safe, precise measurement of water-based chemicals for effective process use and then effluent treatment prior to re-use or discharge to meet water quality standards and regulations.
ECD's S88 Specific Ion Sensors (pION) are utilized in a wide range of industrial processes and industrial plants where water-soluble chemicals pose a potential danger to people, equipment and the environment. Their proven, easy-to-replace specific ion electrode cartridge design converts the chemical activity of a specific ion dissolved in a liquid (water) into an electrical potential (Voltage) that is proportional to amount of the ion in the solution.
ECD's precision S88 pION Sensors monitor and detect ammonia, ammonium, bromide, cadmium, calcium, chloride, copper, cyanide, fluoride, potassium, sodium and sulfide. These chemicals are utilized in many different industries and processes, including petrochemical processing, electronics and semiconductor fabrication, metals and mining, power generation, aquaculture and environmental monitoring.
In addition to pIONs, the versatile S88 Sensor Series also can be configured to measure pH, ORP, dissolved oxygen, conductivity or resistivity. No matter the measured parameter, the S88 Series Sensors convert the analog signals from their electrode cartridge into a digital protocol that allows two way communications with the X80 Universal Transmitter.
The identity of each S88 sensor, its measurement parameter type and serial number, are all stored in the sensor's memory along with three calibration registers. When connected to the X80 Universal Analyzer, the sensor's digital information is uploaded automatically to the analyzer. This process also configures the displays and outputs of the transmitter to the values appropriate to the sensor's measured parameter.
The S88 pION Sensor Series is CE approved. These sensors are intrinsically safe and intended for installation in hazardous locations with Zone 0, Ex ia Ga classifications, -20°C < Ta < 85°C. Their electrochemical sensors are housed in a rugged 316 stainless steel cartridge, with other cartridge materials available based on request.
For ease of installation, the go-anywhere S88 Sensors come in two configurations: (1) insertion style and (2) valve retractable. The insertion sensor uses a 0.75-inch (19.05-mm) MNPT compression fitting as the process connection. This design allows a variable insertion length to accommodate installation in pipe tees, flow cells, or through tank walls. If the fitting is reversed the sensor can be installed in a stand pipe for submersion into a tank.
The S88 Valve Retractable Sensor uses a 1-inch (25.4 mm) ball valve with a 1-inch NPT process connection. Loosening the rear compression fitting allows the sensor to slide freely through the ball valve, but stop at the compression fitting for either insertion into the process or retraction from the process. Ball valve retractable instruments conveniently allow sensors to be removed from the process stream without shutting down the process.
ECD's X80 Universal Transmitter is designed with a 316 stainless steel housing, which is an FM approved explosion-proof enclosure: Class I, Div 1, Groups B, C and D, Class II, Div 1, Groups E, F and G, Class III, Div 1, NEMA 4X, IP66. It is available as either a single- or a dual-channel instrument for continuous measurement with standard MODBUS or optional HART digital bus communications and three optional alarm relays.
The X80 Universal Transmitter features a large (2.75-x-1.5 inch), easily viewable 128-x-64 pixel LCD display with three easily switchable main display screens for data, millivolt and graphics. The display comes with a gray background and black lettering for loop powered instruments or with a blue background and white lettering with LED backlighting on 24 Vdc powered instruments.
About ECD Analyzers
ECD Analyzers is a subsidiary of Electro-Chemical Devices, Inc., which is a manufacturer of liquid analytical process instrumentation. Founded in 1977, ECD has been in business for over 40 years and has built its industry leading reputation by its commitment to customers through this basic approach: Provide quality products, develop technical innovations and provide responsive, knowledgeable service.
ECD Company Contact:
Eric Kim
ECD Address: 1500 N. Kellogg Dr., Anaheim, CA 92807 USA
Web:  www.ecdi.com
Email: sales@ecdi.com
Tel: 800-729-1333 Tel: 714-695-0051
Fax: 714-695-0057
Editor's Contact:
Randy Brown
Tel: 909-223-6700
Email brownr@rbmarketing.com
More from Architectural & Civil Engineering Products