New Sensor Balancing Machine is Ideal for Lidar Manufacturers
Press Release Summary: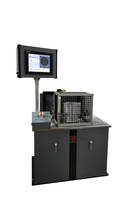 Features balance mechanism that uses rugged hard suspension HVR system
Designed to balance autonomous sensors on self-driving vehicles
Unbalance is identified and displayed on the computer screen
---
Original Press Release:
Hines Industries Manufactures First Autonomous Sensor Balancing Machine
Hines Industries, a Michigan based manufacturer, has engineered and manufactured its first balancing machine specially designed to balance autonomous sensors on self-driving vehicles. A well-balanced sensor will increase the sensors efficiency, when factors such as longevity, safety, and noise play an important role for lidar manufacturers, through reducing the vibration caused by imbalance.
Not all parts within a lidar need to be balanced, only the components that rotate. This poses a unique challenge when designing a balancing machine to incorporate a motorized lidar assembly. Hines engineers redesigned the Hines model HVR to accommodate the spinning sensor without a balancers spindle. 
The Hines Industries custom model HVR-50 is a computer based, two plane, manual load, single station balancing machine. The balance mechanism uses a rugged hard suspension HVR (vertical axis, rotating) system to support the weight of the workpiece. Unlike most Hines HVR machines, this machine has no spindle and instead is driven by the motorized lidar assembly.
Hines programmers created a custom balancing program to incorporate the customers part and motor drive into the balancing machine software. Unbalance is identified and displayed on the computer screen allowing a machine operator to make a correction. After a part has been balanced below its tolerance, "Good Part" is displayed on the computer screen.
With Hines proven technology, the company is able to use their expertise for other lidar manufacturers looking for a balancing solution that is unique to their sensor needs. The Hines team has produced an entire line of balancing equipment that includes manual, semi-automatic, and fully automatic systems for a wide variety of tolerances and manufacturing throughput requirements.
About Hines
Hines Industries is a family owned engineering and manufacturing firm located in Ann Arbor, MI. Hines specializes in the design of leading-edge vertical, horizontal, static (non-rotating), and dynamic (rotating) machines. Other Hines products include rebuilding equipment, mass centering machines, moment weighing equipment, straightening presses, lathes, and tooling. Over the past 40 years, the Hines name has shown leadership and vision with their engineering capability to accommodate special needs and automated solutions.
Contact
Chelsea Gibbons
[email protected]
Hines Industries
240 Metty Drive, Ann Arbor, MI
734-769-2300