New SD-WAN Router is Ideal for Remote Working and Multi-Site Businesses
Press Release Summary: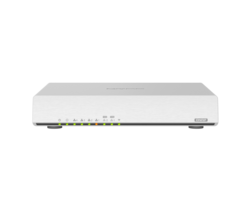 Features Qualcomm Quad-core 2.2GHz processor and 1GB RAM that provides high-performance Wi-Fi 6 (802.11ax) and 2.4GHz/5GHz dual-band wireless transmission
Comes with eight antennas and MU-MIMO that can deliver up to 3600Mbps transfer speed  
Provides remote multi-site VPN that features QuWAN cloud orchestrator topology and enhanced security
---
Original Press Release:
QNAP Launches the QHora-301W - Next-Generation Wi-Fi 6 and 10GbE Dual-Port SD-WAN Router with a Qualcomm IPQ8072A Processor
Taipei, Taiwan, November 6, 2020– QNAP® Systems, Inc. (QNAP), a leading computing, networking, and storage solution innovator, today released the QHora-301W, a Software-Defined Wide-Area Network (SD-WAN) Router with Wi-Fi 6 and dual 10GbE ports. This next-generation router provides not only remote multi-site VPN and complete connectivity, but also QuWAN Cloud Orchestrator topology and enhanced security features, providing a flexible and reliable high-efficiency network structure for remote working and multi-site businesses.
With an enterprise-grade Qualcomm Quad-core 2.2GHz processor and 1GB RAM, the QHora-301W provides high-performance Wi-Fi 6 (802.11ax) and 2.4GHz/5GHz dual-band wireless transmission. With eight antennas and MU-MIMO, the QHora-301W provides the perfect wireless pattern views to enhance Wi-Fi coverage signals, delivering up to 3600Mbps transfer speed and allowing for more concurrent Wi-Fi clients. With two 10GbE ports and four Gigabit ports, the QHora-301W offers flexible WAN/LAN configurations for optimized network deployment, achieving high-speed LAN, streamlined cross-site file transfer and auto mesh multi-site VPN. Furthermore, the QHora-301W enables interconnected Mesh VPN topology via QuWAN (QNAP's SD-WAN technology), providing reliable network infrastructure for digital transmission, prioritized network bandwidth*, automatic WAN failover and centralized cloud management.
The QHora-301W enhances access security between enterprise VPN and edge connection for remote working. With enterprise-level VAP (Virtual AP), IT staff can configure up to six exclusive SSID groups for different departments or application services. Wi-Fi encryption ensures that users can enjoy high-speed wireless transmission with the utmost security. Additional features (including firewalls, port forwarding, and access controls) can effectively filter and block untrusted connections and login attempts. SD-WAN also provides IPsec encryption VPN, Deep Packet Inspection, and L7 Firewall* to ensure the security of VPN network transmission.
"The growth in bandwidth-demanding applications and the transition to remote working requires an investment in secure Wi-Fi 6 and 10GbE connectivity," said Judy Chen, Product Manager of QNAP, adding "the QHora-301W combines breakthrough speed with Wi-Fi encryption, firewalls, and QuWAN SD-WAN technology to help users ensure a safe network environment for accessing confidential and sensitive data."
Built for modern IT environments, the QHora-301W can be universally installed throughout homes and offices and is compatible with VESA mounts. The fanless cooling and low-noise design also ensures cool, stable, and quiet operations even when under heavy load.
Note: QHora will add supports of QuWAN prioritized network bandwidth and L7 Firewall functions from 2021 Q1.
Main Specifications
QHora-301W: Qualcomm Quad-core 2.2 GHz IPQ8072A processor, 1GB RAM; 8 hidden 5dBi antennas; 2 x 10GbE RJ45 port (10G/ 5G/ 2.5G/ 1G/ 100M), 4 x 1GbE RJ45 port (1G/ 100M/ 10M); Supports Dual-band (2.4GHz/5GHz) Wi-Fi 6 (IEEE 802.11ax, and 802.11a/b/g/n/ac), MU-MIMO, OFDMA; Protocol-based firewall, Port forwarding, VPN, and Access Control.
Where to Buy
The QHora-301W is now available. To learn more about QNAP's products, including where to buy, visit www.qnap.com.
About QNAP Systems, Inc.
QNAP, named from Quality Network Appliance Provider, is devoted to providing comprehensive solutions from software development, hardware design to in-house manufacturing. Focusing on storage, networking and smart video innovations, we strive to build a technology ecosystem upon subscription-based software and diversified service channels. QNAP envisions NAS as being more than a simple storage and has created a cloud-based networking infrastructure for users to host and develop artificial intelligence analysis, edge computing and data integration on their QNAP solutions.
Media Contacts
marketing@qnap.com
More from Material Handling & Storage