Temperature Sensors / Detectors / Transducers
New SCD30 CO2 and RH/T Sensor is Based on Dual-Channel Principle
Press Release Summary: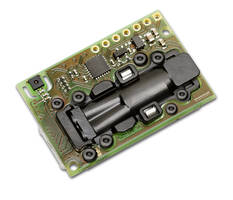 New SCD30 Sensor Module incorporates CMOSens® Technology for IR detection and Sensirion humidity and temperature sensor. Unit's dual-channel principle helps in measurement of carbon dioxide concentration. The module is offered with ControlCenter viewer software that allows displaying and logging of the sensor signals for multiple sensors connected on SensorBridges on the same PC.
---
Original Press Release:
Sensirion's CO₂ and RH/T Sensor Module Is Now Available Globally
The SCD30 humidity, temperature and carbon dioxide concentration sensor is now available worldwide through Sensirion's distribution network.
CMOSens® Technology for IR detection enables highly accurate carbon dioxide measurement at a competitive price. Along with the NDIR measurement technology for CO₂ detection, a best-in-class Sensirion humidity and temperature sensor is also integrated on the same sensor module. Ambient humidity and temperature can be output by Sensirion's algorithm expertise through modeling and compensation of external heat sources without the requirement for any additional components. Thanks to the dual-channel principle for the measurement of carbon dioxide concentration, the sensor compensates for long-term drifts automatically by design.
Carbon dioxide is a key indicator of indoor air quality. Thanks to new energy standards and better insulation, houses have become increasingly energy-efficient, but air quality can deteriorate rapidly. Active ventilation is needed to maintain a comfortable and healthy indoor environment, and to improve the well being and productivity of the residents. Sensirion's SCD30 offers accurate and stable CO2, temperature and humidity monitoring. This enables customers to develop new solutions that increase energy efficiency and simultaneously support well being.
For fast and easy evaluation of your sensor application, Sensirion offers the SEK-Environmental Sensing evaluation kit. The kit combines plug-and-play hardware with an easy-to-use viewer software (the ControlCenter) for in-depth evaluation. The ControlCenter viewer software allows display and logging of the sensor signals for multiple sensors connected to several SensorBridges on the same PC. The evaluation kit includes a Sensirion SensorBridge, all connector cables and various sensor samples.
Visit Sensirion's website to order the SCD30 or to learn more about its specifications and features: http://www.sensirion.com/scd30.
To learn more about Sensirion's SEK-Environmental Sensing evaluation kit, please visit www.sensirion.com/sek.
About Sensirion – Experts for Environmental and Flow Sensor Solutions
Sensirion AG, headquartered in Staefa, Switzerland, is a leading manufacturer of digital microsensors and systems. The product range includes gas and liquid flow sensors, differential pressure sensors and environmental sensors for the measurement of humidity and temperature, volatile organic compounds (VOC), carbon dioxide (CO₂) and particulate matter (PM2.5). An international network with sales offices in the US, Europe, China, Taiwan, Japan and Korea supplies international customers with standard and custom sensor system solutions for a vast range of applications. Sensirion sensors can commonly be found in the medical, industrial and automotive sectors, analytical instruments, consumer goods and HVAC products.
One of the hallmark features of Sensirion products is the use of its patented CMOSens® Technology, which permits intelligent system integration of the sensor element, logic, calibration data and a digital interface on a single chip. Sensirion's credentials as a reliable supplier are underscored by its loyal customers, quality reputation (ISO/TS 16949) and top customer pedigree.
Contact: www.sensirion.com, info@sensirion.com, Tel. +41 44 306 40 00, Fax +41 44 306 40 30
More from Explosives, Armaments, and Weaponry