New Scalance M804PB Router Features Integrated TIA Portal Cloud Connector Functionality
Press Release Summary: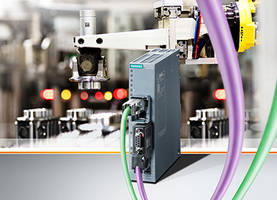 Scalance M804PB Router from Siemens allows the machines and plants to be connected to Ethernet networks through multi-point interface. Unit features two RJ45 interfaces and C-Plug/Key-Plug slot. The router can be configured using web-based management tools and supports VLAN, Firewall/VPN (IPsec)/NAT, OpenVPN, and VRRP/RSTP. Suitable for companies in automotive, food and beverage, chemical and pharmaceutical industries, unit offers download and upload speed of 9.6 Kbit/s to 12 Mbit/s.
---
Original Press Release:
Industrial Router for Secured Remote Access to Plants and Machines with Profibus
Scalance M804PB for connecting existing plants with Profibus/MPI (Multi-Point Interface)
Secured remote access via Sinema Remote Connect management platform
TIA Portal Cloud Connector
For industries such as automotive, food & beverage, chemical and pharmaceutical
Siemens is extending its portfolio of industrial routers with the Scalance M804PB. This device allows existing machines and plants (for example with Simatic S7-300/S7-400) to be connected to Ethernet networks via Profibus/MPI (Multi-Point Interface). Users can also easily and economically connect older machines and plants directly to the Sinema Remote Connect management platform for remote networks. Secured communication takes place via a VPN tunnel which can be easily configured and administered via Sinema Remote Connect. The Scalance M804PB extends the proven Scalance router product line and provides a consistent remote maintenance concept for existing and new plants. This makes it suitable for companies in the manufacturing industry such as mechanical equipment manufacturers (Original Equipment Manufacturers / OEMs) as well as for companies in the automotive, food & beverage, chemical and pharmaceutical industries.
The device has integrated TIA Portal cloud connector functionality. This allows users to easily access existing Profibus units from centrally administered engineering tools such as the TIA Portal or Step 7 (from version 5.5). The Scalance M804PB is a Profibus/MPI router for private, wired networks even with existing two-wire cabling. In addition to a Profibus/MPI connection, it also has two RJ45 interfaces in the form of a fast Ethernet two-port switch. It also has a C-Plug/Key-Plug slot. The Scalance M804PB supports VLAN, Firewall/VPN (IPsec)/NAT, OpenVPN (as client), VRRP/RSTP and can be configured for CLI and SNMP via web-based management tools. Download and upload data rates of 9.6 Kbit/s to 12 Mbit/s can be achieved on the Profibus/MPI interface. The redundant supply voltage is DC 24 V. Mounting options include wall mounting, DIN rails and S7-300 or S7-1500 profile rails.
The Scalance M804PB Profibus/MPI router has the same user interface and comparable performance characteristics as the Scalance M-800 and S615 product line as it is based on the same firmware. This provides easy handling and compatibility with existing systems (for example, the Simatic portfolio, network management software etc.). For example, with the Scalance M804PB, digital input and output allow on-site access control via key switches.
For further information, refer to www.siemens.com/scalance-m
Find further information about Siemens at the Achema 2018 at
www.siemens.com/achema and www.siemens.com/press/achema2018
Contact for journalists
Dr. David Petry
Phone: +49 (9131) 7-26616; E-mail: david.petry@siemens.com
Follow us on social media:
Twitter: www.twitter.com/MediaServiceInd and www.twitter.com/siemens_press
Blog: https://blogs.siemens.com/mediaservice-industries-en
Siemens AG (Berlin and Munich) is a global technology powerhouse that has stood for engineering excellence, innovation, quality, reliability and internationality for 170 years. The company is active around the globe, focusing on the areas of electrification, automation and digitalization. One of the world's largest producers of energy-efficient, resource-saving technologies, Siemens is a leading supplier of efficient power generation and power transmission solutions and a pioneer in infrastructure solutions as well as automation, drive and software solutions for industry. With its publicly listed subsidiary Siemens Healthineers AG, the company is also a leading provider of medical imaging equipment – such as computed tomography and magnetic resonance imaging systems – and a leader in laboratory diagnostics as well as clinical IT. In fiscal 2017, which ended on September 30, 2017, Siemens generated revenue of €83.0 billion and net income of €6.2 billion. At the end of September 2017, the company had around 377,000 employees worldwide. Further information is available on the Internet at www.siemens.com.
More from Fluid & Gas Flow Equipment