New Safety Padlocks Designed to Minimize this Potential Safety Concern
Press Release Summary: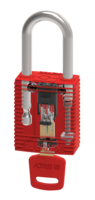 Features two side-locking bars, a low-friction locking mechanism and unique, smooth key blade
Designed specifically to bring advanced key security and key precision to lockout programs
Boast up to 100,000 precision-cut operating keys
---
Original Press Release:
Brady Expands Its Market-leading Lockout Line with Exclusive Brady SafeKey Lockout Padlocks
Innovative new series provides up to 700% more unique operating keys than traditional safety padlocks
Milwaukee, Wis. (May 7, 2019) — Brady (NYSE:BRC), a global leader in industrial and safety printing systems and solutions, announced the launch of a new line of safety padlocks designed specifically to bring advanced key security and key precision to lockout programs. 
With traditional padlocks, unwanted key duplication can occur, potentially resulting in two different employee keys opening a single worker's personal safety lock. The new padlocks – called Brady SafeKey Lockout Padlocks – are specifically designed to minimize this potential safety concern. SafeKey padlocks boast up to 100,000 precision-cut operating keys – 700% more than traditional locks – allowing them to more effectively guard against unwanted key duplication, a concern particularly critical for facilities that issue multiple padlocks for lockout.
"As the nature of manufacturing equipment becomes more complicated, the industry needs to ensure the safety of their employees keeps pace," said Brien Christopherson, vice president of research and development at Brady. "That's why we developed a new padlock with an innovative locking mechanism. As an expert in safety lockout, Brady has helped customers solve their equipment lockout concerns for years. Now we offer an alternative to traditional padlocks with our made-like-no-other solution. With its two side-locking bars, a low-friction locking mechanism and unique, smooth key blade, SafeKey padlocks deliver greater precision and significantly more operating keys, all designed for the safety and convenience of employees."
This patent-pending product puts the company in even better alignment with the continually growing safety needs of manufacturing and many other industries where equipment lockout is enforced. Ease of use and durability round out what sets SafeKey Lockout Padlocks apart from other locks. The low-friction key insertion and removal allows for easy, one-handed operation, even while wearing gloves, and a one-piece colored body design and color-matching key provide foolproof convenience and durability. Offered in both non-conductive nylon and high-strength aluminum bodies, nine colors, steel and polymer plastic shackles, and extensive lock customization options, including laser engraving and custom key record-keeping services, SafeKey padlocks address all lockout needs, from the most simple to the most complex.
The SafeKey padlock series joins the company's established line of safety, aluminum and laminated steel safety locks. Additionally, Brady has a comprehensive line of equipment lockout devices, plus safety training, program development and visual lockout procedure writing services, as well as LINK360® procedure management software, together comprising the most comprehensive lockout tagout solution available. 
For more information on Brady SafeKey Lockout Padlocks, visit BradyID.com/SafeKey.
For More Information
For the complete product offering from Brady, visit BradyID.com.
About Brady Corporation:
Brady Corporation is an international manufacturer and marketer of complete solutions that identify and protect people, products and places. Brady's products help customers increase safety, security, productivity and performance and include high-performance labels, signs, safety devices, printing systems and software. Founded in 1914, the Company has a diverse customer base in electronics, telecommunications, manufacturing, electrical, construction, medical, aerospace and a variety of other industries. 
Brady is headquartered in Milwaukee, Wisconsin and as of July 31, 2018, employed approximately 6,200 people in its worldwide businesses. Brady's fiscal 2018 sales were approximately $1.17 billion. Brady stock trades on the New York Stock Exchange under the symbol BRC. More information is available at www.bradycorp.com.
Media Contact:
Jackie Hahn, (414) 438-7024
Product Contact:
Brien Christopherson (414) 228-5081
Brien_Christopherson@bradycorp.com
More from Mechanical Components and Assemblies