New SafeGait ACTIVE Protection Device Allows Multi-Direction Movement
Press Release Summary: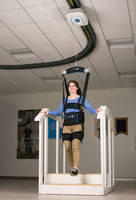 Gorbel's SafeGait ACTIVE™ Fall Protection Device can be used for rehabbing an orthopedic or athletic injury, falls management for aging adults. The multi-direction movement of the unit allows patients to gait, balance, transfer and stair exercises. SafeGait ACTIVE is embedded with Dynamic Fall Protection (DFP) technology that allows therapists to modify fall protection sensitivity to accommodate patients at varying stages of independence.
---
Original Press Release:
Gorbel® Inc. Introduces SafeGait ACTIVE™
Victor, NY based company launches first of its kind dynamic mobility trainer.
Victor, NY: Gorbel® Inc., the maker of innovative unweighting and fall protection devices for the rehabilitation and industrial markets, today announced the launch of SafeGait ACTIVE™; an overhead fall protection device that allows patients to move dynamically through treatment sessions. SafeGait ACTIVE™ is designed to treat patients further along the continuum of care and is ideal for hospital based or private practice outpatient clinics. Whether rehabbing an orthopedic or athletic injury, or providing falls management programs for aging adults, SafeGait ACTIVE™ allows therapists to improve patient's functional skills without limitations.
"Listening to customers and focusing our development efforts on addressing their needs has continuously allowed us to launch technology solutions that have real impact on improving the lives of patients and therapists," Gorbel® President Brian Reh explains. "From that input, Gorbel® is proud to launch yet another 'first' in the rehabilitation space. SafeGait ACTIVE™ fills a major hole in the non-robotic, overhead fall protection device market."
ACTIVATE Your Patients
Unlike passive or static devices that limit travel to the horizontal plane, SafeGait ACTIVE™ allows for the freedom of multi-directional movement while also protecting patients as they practice gait, balance, transfer and stair exercises. Exclusive Dynamic Fall Protection (DFP) technology distinguishes between a patient's intentional movement downward, (i.e. to sit) and a fall so therapists can safely challenge patients and facilitate error. The unique DFP Sensitivity Levels allow therapists to modify fall protection sensitivity to accommodate patients at varying stages of independence.
Instill Confidence
Confidence is an important part of the recovery process for a patient and a clinician. Without fear of falling patients can make faster functional gains as they accept higher level challenge and activity during rehabilitation. SafeGait ACTIVE™ provides therapists greater freedom to safely challenge patients during functional mobility tasks.
"SafeGait ACTIVE™ significantly expands the treatment opportunities for therapists as the only fully dynamic system on the market with a price point that is affordable to even small clinics," stated Reh. "Our innovation pipeline is looking ever forward and we are excited to continue to take rehab to new heights."
Pursue Activities without Limits
With SafeGait ACTIVE™, therapists can safely challenge patients with more repetitions and intensity as they practice comprehensive activities of daily living. SafeGait ACTIVE™ accommodates a wide range of treatment options that support more productive therapy sessions by mitigating fall risk and enabling multidirectional movement.
Gorbel Inc. and SafeGait Solutions
Gorbel has over 40 years of experience providing material handling and rail design in the industrial sector. With the help of experts in Physical Therapy and Occupational Therapy, they design, develop, and manufacture SafeGait® Solutions; rehabilitation devices intended to improve patient outcomes. The flagship product in the SafeGait family is the SafeGait 360® Balance and Mobility Trainer, which is a dynamic body-weight support and fall protection system that facilitates a modern, 1:1 therapist/patient interaction in a safe, efficient environment. Other SafeGait Solutions include the SafeGait ACTIVE™ system and the SafeGait EMBRACE™ harness.
SafeGait® is Gorbel®'s patented technology that injects innovation into traditional gait and balance therapy. The SafeGait Integrated Rail System and G-Force® technologies are based on almost 40 years of Gorbel®'s patented technologies and innovations in designing, building and installing cranes, custom rails and safety solutions. Gorbel is a global leader in the industrial space and serves a wide range of industries.
Emma Percy
Content Creation Specialist
phone: (585) 924-6286
email: emmper@gorbel.com
site: www.gorbel.com
More from Electrical Equipment & Systems