New RTC-SB Rodless Cylinder Features Lubrication-Free Slide Bearing
Press Release Summary: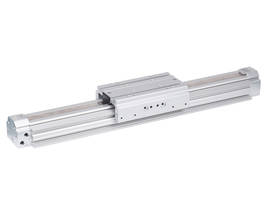 Aventics' RTC-SB Rodless Cylinders are available with RTC-BV, RTC-CG and RTC-CG versions with bore sizes ranging from 25 to 40 mm for RTC-SB version. Unit delivers maximum speed of 6.5 m/s and maximum stroke around 6,000 mm. Featuring adjustable pneumatic cushioning for improved service life, units come with magnetically attached exterior strip, scraper and sealing strip. The cylinder is resistant to water, chemicals and dirt.
---
Original Press Release:
New Rodless Cylinder Supports Compact Machine Design
Aventics completes its range of rodless cylinders with the addition of the RTC-SB
Aventics now offers a new product for applications where the basic variants just won't do the trick, but high-performance cylinders are too powerful. The new RTC-SB slide bearing version rounds off the pneumatics specialist's RTC range of rodless cylinders.
Lexington, Kentucky, May 2, 2018 – As with the other double-acting rodless cylinders from Aventics, at the heart of the RTC-SB (slide bearing) is its oval piston shape. In relation to its size, it offers a very high load capacity. As a result, engineers can draft even more compact machine designs. Equipped with a lubrication-free slide bearing, the cylinder is maintenance-free and resistant to water, chemicals and dirt. The slide play is optimally adjusted at the factory.

The new RTC-SB rodless cylinder is designed for a maximum speed of 6.5 m/s (21.3 ft./s). The maximum stroke is around 6,000mm (21.6 ft.). A wear-free magnetically attached exterior strip, scraper and sealing strip protect the cylinder from dust and dirt. Adjustable pneumatic cushioning extends the service life and ensures precise and gentle operation. The RTC precision cushioning can achieve what Aventics describes as "Ideal Cushioning" with the proper tools and adjustment. Form-fit connection technology from Aventics with standardized mechanical interfaces simplifies machine design and speeds up assembly significantly since no re-adjustments are necessary.

The RTC cylinder completes the Aventics range of double-acting rodless cylinders. The new RTC-SB version with bore sizes ranging from 25 to 40 mm closes the previous gap between the basic version (RTC-BV) and the versions designed for higher loads, the RTC-CG (compact guide) and RTC-HD (heavy duty). RTC cylinders can be easily configured online with a part number assigned, CAD drawings and other documentation available in minutes. More information and links to tools for the RTC are available at:www.aventics.com/us/RTC 

About Aventics

Aventics is one of the world's leading manufacturers of pneumatic components and systems. The pneumatic engineering company provides products and services for industrial automation, as well as the food, packaging, medical, and energy technology industries. The company also develops solutions for the commercial vehicles, marine, and railway technology sectors.

By integrating electronics, the use of state-of-the-art materials, and focusing on machine safety and the Internet of Things (I4.0), Aventics is a pioneer in applied and environmentally-friendly solutions. Aventics is preparing for the future by expanding its approach to digitalization.

With around 150 years of expertise in pneumatics, Aventics employs over 2,000 associates worldwide. From production sites in Germany, France, Hungary, the USA, and China, Aventics markets its products in over 100 countries through direct sales and sales partners. The Aventics Group has received multiple certifications, including ISO 9001 and ISO/TS 16949 for quality, ISO 50001 for energy management, and ISO 14001 for environmental management.

Further information is available at www.aventics.com/us.
Aventics Media Contact (Godfrey Public Relations)
Todd Walter
Tel. 717 945 1893
More from Packaging Products & Equipment