New RSH-60 VMD Surge Protective Devices Meet UL 1449 Standards
Press Release Summary: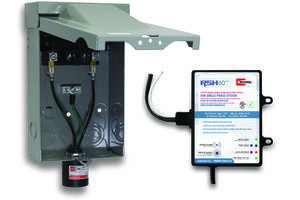 Come with 60-amp fused and non-fused disconnect boxes, both feature factory-installed prewired RSH-50
Feature green LED, red LED and notifying audible alarm if the SPD is no longer providing protection
Protects against one 60kA surge,  20kA repetitive surges and carries National Electrical Code's (NEC) highest short circuit current rating (SCCR) of 200kA
---
Original Press Release:
RectorSeal® Expands the RSH™ Series HVAC/R Surge Protection Product Line
The RSH™ Series adds a voltage monitoring device (VMD) for brownouts and other deficient voltage events; adds disconnect boxes with pre-wired surge protective devices.
RectorSeal® LLC, Houston, a manufacturer and distributor of quality HVAC/R products, and part of the CSW Industrials, Inc. [Nasdaq:CSWI] group of companies, has added a voltage monitoring device (VMD) and two disconnect boxes pre-wired with surge protectors to its RSH™ Series of surge protective devices (SPD) designed specifically for HVAC/R systems.
The RSH Series is the HVAC/R industry's only surge protection product line that carries a lifetime warranty with select SPDs. The Series also features the longest connected HVAC/R equipment warranties from transient over-voltage and natural-cause surges for the unitary and ductless mini-split systems (DMSS) air conditioning units they're designed to protect.
The new RSH-60 VMD is a combination voltage monitor and SPD for single phase, 120/240V air conditioning and heat pumps (not recommended for mini-splits). During utility brownouts, voltage drops or other electric line disturbances, the RSH-60 VMD shuts down the HVAC/R condenser to protect the compressor motor and circuit boards from running on deficient voltage. It also combines the electronics of its sister product, the RSH-60, which protects against one 60kA surge (lightning), 20kA repetitive surges (common transient over-voltages) and carries the National Electrical Code's (NEC) highest short circuit current rating (SCCR) of 200kA.
The RSH-60 VMD has a 5.2 (l) x 5.2 (w) x 2.3 (d)-inch (132 X 132 x 58-mm) molded polymer casing with a fully-potted seal to protect from moisture whether it's bottom-mounted vertically or side-mounted horizontally into a disconnect box. Bottom-mounting, which some competitors can't accommodate, is invaluable when side-access is limited on contiguously installed series of disconnect boxes for large multi-condenser projects.
The RSH-60 VMD surpasses most competitors' connected equipment protection periods by two years with a five-year/$7,500 warranty if the HVAC/R equipment is surge-damaged. The RSH-60 has a green LED, a red LED and a notifying audible alarm if the SPD is no longer providing protection.
Two more additions to the RSH Series are 60-amp fused and non-fused disconnect boxes, both featuring a factory-installed, prewired RSH-50, which saves valuable jobsite installation time. The battleship gray powder-coated all steel 8.7 (l) x 5.4 (w) x 3.1 (d)-inch (221 x 137 x 78-mm) boxes are weather-rated under NEMA 4X criteria and have a locking hinged flip-up cover. They also have a loop to place a lock and prevent unauthorized access. The RSH-50 protects from up to 50kA single surges and up to 10kA repetitive surges. The RSH-50 carries a lifetime product warranty and a five-year/$5,000 connected equipment warranty. It features a green LED to indicate operational status.
The RSH Series' warranties are based on RectorSeal's unique technology. Most SPDs use metal oxide varistors (MOV), which are variable resistors that block voltage surges and re-channel them harmlessly into the ground plain. RectorSeal uses superior and more reliable thermally-fused varistors (TFMOV) and innovatively combines them with a gas discharge tube (GDT)–the HVAC/R industry's first surge protection integration of TFMOVs with GDTs. The TFMOV handles the everyday workload of commonly occurring surges generated within the building by millisecond transient over-voltages in addition to supply-side utility voltage load transfers that repetitively degrade compressor motors, circuit boards and other electrical components. The GDT makes the RSH Series' unrivaled lifetime warranty possible, because it safeguards against TFMOV failures from large catastrophic spikes that can occur from large utility invariances and potential occurrences of lightning-generated electric field damage.
Other RSH Series features include:
Disconnect boxes feature three extra 1/2-inch knockouts for additional access;
Makes a profitable add-on sale for new installations or an aftermarket sale for existing units;
Reduces surge liabilities and damage that customers can blame on the HVAC/R installation or the service contractor;
Tested under UL 1449 Standard for Surge Protection Devices (Type I);
Price is a fraction of the cost to replace circuit boards, compressor motors or entire units damaged by surges;
Manufacturer PSP Products Inc., stands behind the product warranties and will service any warranty claims;
The RSH-60 VMD comes in a case quantity of two; and the fused and non-fused disconnect boxes (with an RSH-50) each come in case quantities of six;
All RSH Series products come in individually packaged boxes with a four-color, informative label and are available only at HVAC/R wholesale distributors.
For more information on the RSH Series, RectorSeal, or its HVAC/R, plumbing, firestop and electrical products, please visit www.rectorseal.com or contact its customer and technical support departments at 800-231-3345.
About RectorSeal: The RectorSeal LLC, is a manufacturer of chemical, mechanical and firestopping products for the professional trades. The company is centered on a simple mission: To provide innovative solutions to the professional trades. RectorSeal wants to help professionals in the heating & cooling, plumbing, electrical and construction industries perform their work faster and with greater reliability. Founded in 1937, RectorSeal originally focused on manufacturing specialty chemical sealants. One of our first products, RectorSeal Number 5, became a staple of the plumbing industry, serving as a common thread sealant throughout the U.S. Since these beginnings, RectorSeal has continued to grow by expanding its offering of chemical and mechanical products to support the tradesman. Today, RectorSeal has developed a robust line of chemical, mechanical and firestopping products. These products are distributed through an extensive wholesale distribution network. Primary products include thread sealants, firestopping sealants, plastic pipe cements, anti-seize compounds, fluxes, lubricants, chemical cleaners, duct sealants, leak locators, and other specialized products. Many of these products have built a strong following among contractors due to their differentiated performance and from being the first to tackle challenges faced by the professional trade. For more information, visit www.rectorseal.com, email: marketing@rectorseal.com or call (800) 231-3345.
About CSW Industrials: CSWI is a diversified industrial growth company with well-established, scalable platforms and domain expertise across two segments: Industrial Products and Specialty Chemicals. CSWI's broad portfolio of leading products provides performance optimizing solutions to its customers. CSWI's products include mechanical products for heating, ventilation, air conditioning, and refrigeration applications, sealants, and high-performance specialty lubricants. Markets that CSWI serves include: HVAC/R, architecturally-specified building products, general industrial, plumbing, rail, energy, and mining. For more information, please visit www.cswindustrials.com.
Contact:
Delicia Shyu
Marketing Comm. Director
RectorSeal LLC
(800) 231-3345
delicia.shyu@rectorseal.com
or
John Parris Frantz
J.P.F. Communications
(773) 871-2600
john@jpfcomm.com
More from Electronic Components & Devices