Rotary Positioning Stages / Tables
New RS-50A Rotary Indexer from Nabtesco Suitable for Index Tables
Press Release Summary: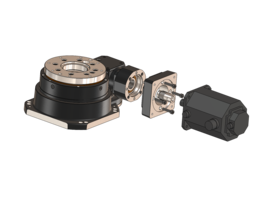 Features shorten cycle times, hollow shaft, oil changing and compatible with all servo motors
Ideal for high speed applications and able to handle loads up to 1 ton. RS*-S
Offers reduction ratios ranging from 65.4:1 to 163.5:1 and has turntable gearbox
---
Original Press Release:
Introducing the RS-50A - Nabtesco Rotary Indexer
We are very excited to announce the newest addition to the Nabtesco lineup, the RS-50A. A part of the RS family of low-profile index drives, the RS-50A includes high performance in an easy to use, compact package. Perfectly suited for index tables, the RS-50A is great for high speed applications and is also able to handle loads up to 1 ton. RS*-S
FEATURES
A gearhead utilizing the industrial robot industry-proven Precision Reduction Gear RV
Shorten cycle times with high speed rotation
Compact size reduces total height of machine
Hollow shaft for wiring
Compatible with all major servo motors
Available with an optional output flange
Pre-lubricated
Easy oil changing
ADVANTAGES OVER CAM INDEXERS
One of the most noticeable advantages with the RS-50A turntable gearbox is the ability for infinite positionability. Compared to fixed-stop index tables, a servo motor paired with the RS-50A will allow for precise positioning at any angle. This increases flexibility and allows the same unit to be used for different applications. 
Another major advantage of the RS-50A is there is no calibration needed. After initial installation, the application is essentially maintenance free. In comparison, Cam indexers rely on sliding friction, whereas Nabtesco Indexers rely on rolling friction; allowing significantly greater efficiencies. 
Finally, we understand how important projects and lead times are to our customers. This is why the RS-50A is ready to ship from our local stock. This beats out average shipping times against cam indexers by weeks.
SHORTEN CYCLE TIMES
The RS-50A utilizes our hollow shaft RV gearbox with its large torque capacity. This allows for large loads to be positioned both quickly and precisely. Able to withstand the large torques that occur when a load is accelerated/decelerated, this translates to shorter cycle times for the user. For example: 180 deg in 1 sec, for a load with 10 kgm2 moment of inertia.
We offer the RS-50A with reduction ratios ranging from 65.4:1 to 163.5:1. This gives the customer the flexibility to choose a product that fits best for their intended application. 
EASY TO USE
The RS-50A turntable gearhead comes pre-lubricated with RV Oil SB150, and is completely sealed. A variety of motor flanges and input splines are available that allow for easy mounting of all major servo motors. 
This saves time and hassle associated with the gear-motor interface. Dowel pin holes are also provided on the output face and installation surface for simple and efficient re positioning of any attached fixtures (and also the unit itself). 
RELEASE DATE
With floods of interest around our newest index table gearbox, the RS-50a will to be ready to ship in August 2019.
Get notified on all the news related to the RS-50A by signing up to our Interest List below:
ANY QUESTIONS? 
When it comes to finding a high precision solution for rotary index tables, nothing is going to beat the RS-50A.
Between shortened cycle times, infinite positionability and less maintenance; choosing the RS-50A as your option for precision indexing is an
easy win.
We would love to talk with you about the RS-50A and how it might benefit your application.
If you have any questions about the RS-50A, please email us at engineering@nabtescomotioncontrol.com
More from Fluid & Gas Flow Equipment