New Rotatable Connectors from Rampart are Based on VICTREX PEEK Polymers
Press Release Summary: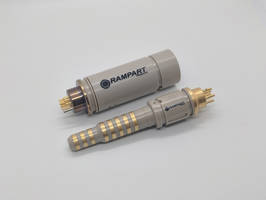 New high pressure-high temperature rotatable electrical connector allow for reliable transmission of power and data without flooding expensive sensor and electronics packaging in the oil and gas industry. The assembly is less prone to breakage and is compatible with industry-standard envelope. Withstanding extreme shock/vibration conditions, the design is structurally strong. Operating temperature is 400°F and operating pressure is 20,000+ psi.
---
Original Press Release:
New HPHT Rotatable Electrical Connectors to Safeguard Valuable Sensors in Drilling Equipment
Rampart Products partnered with Victrex to develop new pressure-rated rotatable connector sets based on VICTREX™ PEEK polymers tested in real-world drill environment
THORNTON CLEVELEYS, UK - (April 26, 2018) - Rugged environment electrical connector specialist Rampart Products has specified a Victrex polymer blend for a new HPHT (high pressure-high temperature) rotatable electrical connector for reliable transmission of power and data used in oilfield drilling equipment. During material selection and the development of the molding process, Rampart worked closely together with PEEK polymer pioneer Victrex. At the Offshore Technology Conference (OTC) 2018 - Booth #505, Victrex will showcase long-lasting components that can contribute to help the oil and gas industry reduce downtime and risk. Ahead of OTC Victrex has also invested in additional resources in the US to support its focus on the energy industry.
In the run-up to the largest global event for the oil and gas sector, the OTC 2018, April 30 to May 3, James Simmonite, Director Energy at Victrex, said: "Our experience with Rampart is an excellent example of how together we can translate growing engineering requirements into long-lasting components that help reduce downtime and risk of failures due to electrical leakage. We have recently invested in dedicated technical and commercial resources in the Houston area to better serve our energy customers to support application development efforts, ranging from feasibility assessment to technical qualification to commercialization stages of projects."
"Customers using rotatable connectors without a pressure bulkhead risk flooding expensive sensor and electronics packages," explains Ed Beshoory, President of Rampart Products. "We are already using other high performing materials supplied by Victrex, so working with Victrex to develop a polymer blend with the needed properties, was a natural selection when developing the rotatable connector. Rampart relied on Victrex for support and processing direction early in the development phase, allowing us to shorten our time to market and recognize revenue more quickly."
In addition to HPHT, requirements include making the assembly less prone to breakage, compatibility with the industry-standard envelope, while maintaining a competitive sales price. Beshoory adds: "To demonstrate the reliability of the rotatable connector made with Victrex material, we partnered with an existing customer and tested in a real-world drilling environment in our customer's tool. This approach allowed us to test the performance at high temperature and high pressure simultaneously while under extreme shock/vibration conditions."
Traditionally, a machined and assembled design containing wire and solder joints are used in the rotatable connector market. This approach can result in a structurally weak system with poor shock and vibration resistance. The custom VICTREX PEEK blend-based Rampart Products´ male rotatable connector is a completely molded unitized solution that is structurally much stronger, has no internal wire or solder joints to fail under shock or vibration and fewer components. An added benefit is the unitized all-molded design creates a high pressure, integrated bulkhead. The female rotatable connector has a semi-unitized body, also eliminating wire while allowing for Rampart to mold a high-pressure seal where the connector shoulders, while incorporating a machined/assembled solution for ease of assembly.
Rampart´s new rotatable connector was designed for temperatures of 400°F (200°C) and pressures at 20,000+ psi (1380 bar) providing a reliable electrical connection while protecting expensive sensors and electronics.
Victrex has more than 35 years of knowledge in developing and applying novel PEEK polymer based solutions. Full traceability, testing beyond standards and more than 50 quality tests per batch enable performance in the harshest operating conditions. Today, e.g. more than 75 million seals are in use; PEEK based composite solutions for use in energy are also gaining momentum.
Further information on Rampart Products, please visit www.rampartproducts.com. For Victrex solutions for the oil and gas industry, please visit www.victrex.com/en/energy.
About Rampart
Rampart Products designs and manufactures HPHT electrical connectors for harsh environment applications by injection molding PAEK polymer over metal contacts to create a high pressure, high temperature, hermetic seal. The company's connector designs include rotatable, single-pin feedthrough, multi-pin bulkheads and mating boot kits. Find out more at www.rampartproducts.com.
Contact: Kris Jommersbach
Gemini Communications
PH: + (1) 610-935-1633
krisj@geminiinc.com