Position Sensors / Detectors / Transducers
New Rotary Position Sensors from NewTek Offer Accurate Angular Displacement Measurements
Press Release Summary: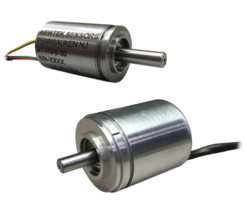 NewTek Sensor Solutions has released the RV series of RVDT Rotary Position Sensors. These sensors offer accurate angular displacement measurements of rotating elements such as quarter-turn ball and butterfly valves, actuators, throttles, and dancer arm tensioners. Features inlcude a shaft that rottes 360 degrees with no stops and little friction, shaft angle position measurements over a nominal range of plus or minus 30 degrees, shock and vibration tolerance, and a operating temperature range of -65 degrees fahrenheit to 220 degrees fahrenheit.
---
Original Press Release:
NewTek Expands LVDT Displacement Line with High-Performance, Non-Contacting Analog Rotary Position Sensors
Pennsauken, NJ, October 10, 2018… NewTek Sensor Solutions introduces the RV series of RVDT Rotary Position Positions that offer highly accurate angular displacement measurement of rotating elements such as quarter-turn ball and butterfly valves, actuators, throttles and dancer arm tensioners used in industrial machine-to-machine applications.  With a shaft that rotates a full 360° with no stops and virtually no friction, these AC-operated rotary position sensors measure shaft angle position over a nominal range of ±30°. 
RVDTs (Rotary Variable Differential Transformers) are known for reliability and ruggedness in extreme environments, with a non-contacting design gives NewTek RV sensor extremely long operational life by eliminating components that wear or degrade over time. In addition to offering good noise performance, these AC-operated analog RVDTs are shock and vibration tolerant to provide excellent feedback even when operating in hostile conditions often found in challenging packaging and automation applications.  Units operate over a temperature range of -65°F to 220°F and exhibit a linearity error of less than 0.5% of full range.
NewTek offers the RV series in both a size 8 (0.75") and size 11 (1.06") diameter with standard servo mounts for immediate shipment. Operating from 7.5 V rms (nominal), the AC-operated RVDTs provide an analog signal output that can be used with NewTek's NTC-6000 Signal Conditioner for a complete measurement solution.  The RV sensor can operate in the harsh conditions while the signal conditioner is stationed in a nonvolatile area for greater system longevity and reliability. 
The RVDT joins NewTek extended line of Linear Position Sensors and signal conditioners, enabling the company to address a greater range of angular and displacement measurement applications.     For more information about NewTek RV Series of Rotary Position Sensors, refer to the website at http://www.newteksensors.com/products/rv-series-rvdt/ or contact Mike Marciante at 856-406-6877 to discuss your application requirements.
About NewTek Sensor Solutions    
NewTek Sensor Solutions designs and manufactures standard, custom, and harsh environment LVDT-based linear position sensors for a variety of industries including power generation, factory automation, oil and gas exploration, aerospace/mil, chemical processing, subsea oil drilling and automotive testing. Incorporated in 2016, NewTek Sensors offers more than 200 years of cumulative LVDT design and manufacturing experience by its key staff in serving an OEM and end-user customer base.  The company differentiates itself in the market by delivering high-quality, made-in-the-USA LVDTs at cost-effective price points in short timelines. www.newteksensors.com
More from Electrical Equipment & Systems