New Rotary Blow Molding Machines Feature More Robust Modular Clamping Station
Press Release Summary: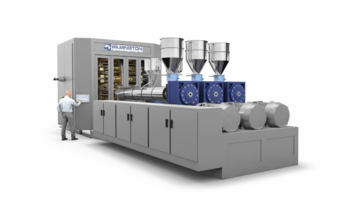 Wilmington machinery has released a new series of rotary blow molding machines. These machines are part of the Serie III B machine line and feature a robust modular clamping station with pre-plumbed air and water services directly to the clamp platens. The new construction also includes a dual cam clamp actuation ronreduce wear on clamp components and allow for independent open/close control of each mold half.
---
Original Press Release:
Wilmington Machinery debuts Series III B Rotary Blow Molding Machines (Aka "Wheels")
When does the rotary blow molding technology make financial sense for making extrusion blow molded bottles?
The short answer:
Molders choose rotary blow molding systems instead of shuttles or reciprocating screw machines when they have a high volume requirement for high quality bottles and want to produce them at the lowest cost level.
Other key benefits of Rotary Blow Molding Systems:
In most cases, rotary blow molding machines are all electric with electromechanical actuation of extrusion, rotation and mold clamping. Maintenance is less and uptime is greater than traditional hydraulic type machines. Floor-space to produce large volumes of the same product compared to other technologies is significantly reduced. Since rotary blow molding systems are fully automated, labor is reduced to typically one operator for one or sometimes two production lines.
When did Rotary Blow Molding begin and by whom?
Rotary Blow Molding was in use by the mid-1960's then as today for the volume production of household product bottles, notably bleach bottles. Companies like American Can, Continental Can and Owens. Illinois were among the earliest users of the technology. Most of the early users had their own wheel design and build capability and bought extruders on the open market. Commercial Rotary Blow Molding Systems began to appear in the 1970's.
What bottles are made on Rotary Blow Molding Systems?
Almost all extrusion blown bottles for food, chemicals, household products and medical products from as small as 80 ml. to 2.5 gallons including handle ware type bottles. The bottles can be monolayer (single layer), 3-layers or up to 7-layer for barrier applications. In-Mold-Labelling (ILM) is a standard option for most machines.
What is the New Wilmington Series III B Machine?
First of all, Wilmington Machinery did not invent Rotary Blow Molding (aka "Wheels"). Beginning in 1979 the company sought to perfect it. From the beginning the clamping actuation has been simultaneously opposed which is most desirable for high quality bottle making. This capability is retained in the new Series III B series of four sizes (tonnages) of machines configured for the specifications of the bottle and the quantity to be produced.  Like its' Series III predecessor, it is available with 9-36 molding stations (clamps) rotating in a circular pattern at speeds up to 10 RPM resulting in production of 45-720 bottles per minute. The extrusion unit as previously mentioned can be 1-7 extruders dependent upon bottle layer requirements. Dieheads include single layer, 3-layer and up to 7 layers for both single and dual parison molding.
What is new is the whole construction of the rotary blow-molding unit (wheel). Starting with a more robust modular clamping station with pre-plumbed air and water services directly to the clamp platens, setup and maintenance time is significantly reduced.
The new wheel has dual cam clamp actuation which significantly reduces wear on clamp components and allows for independent open/close control of each mold half. This feature is especially useful in ejection and placement of bottle at the discharge point of the wheel.
The new wheel retains the "radial positioning" (aka variable pitch) feature that Wilmington pioneered in the 1980's. A change is the unique "spoke" mounting arrangement of the clamps to the axle. This feature provides for a simpler, more robust arrangement that is much faster to setup. It also retains dual water unions to the molds which provides for improved mold coolant flow and reduced cycle time.
The new wheel also incorporates a servo drive for the clamps that provides extreme consistency of the station-to-station clamp opening/closing resulting in the same high consistency in the bottle. The servo drive system is programmed to index the wheel exactly one station for setup purposes. Additionally, Wilmington's automatic clamp open/close feature greatly simplifies and reduces the time of mold setup.
Wilmington Extrusion Systems are produced with the finest commercial components (gearboxes, heaters, etc.) and are known for their modular compact design that keeps Wilmington pioneered in 1979 for the first 6-layer (barrier) bottle programs. The Series III B also introduces Beckoff controls as standard and is production proven on rotary blow molders. The new controls provide for improved operator and maintenance friendliness, improved parison profiling and improved diagnostics.
About Wilmington Machinery:
Wilmington Machinery also builds the SB Series of Rotary Blow Molders for very high volume production of single serve energy, nutritional, juice and dairy products. These machines typically produce from 14,000 – 72,000 bottles per hour and have most of the features of the new Series III B machines.
Wilmington Machinery was founded to build structural foam injection molding and foam extrusion machinery. It has undertaken considerable development of foamed extrusion blow molded packaging and foamed industrial blow molding and currently offers both machinery types. Additionally it has produced custom plastics molding machinery for injection extrusion and thermoforming processes.
From a modern 65,000 SF facility in Wilmington, North Carolina, the company is well prepared to meet unique customers' needs for large plastics machinery products. International shipments are commonplace and can be arranged through the nearby deep water Port of Wilmington.
http://www.wilmingtonmachinery.com/
More from Agricultural & Farming Products