New Robust Analog 6DOF Vibration Accelerometer, Series 7576A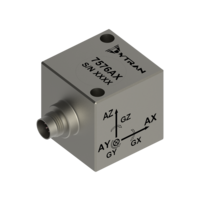 August 08, 2017 – Chatsworth, California, USA – Dytran Instruments, Inc. (www.dytran.com) a leading manufacturer of piezoelectric and DC MEMS accelerometers, force and pressure transducers and associated electronics, is pleased to announce the release of the 7576A series, our new high-performance analog 6DOF motion sensor.
Series 7576A is a family of analog six degrees of freedom (6DOF) motion sensors containing three MEMS-based single axis accelerometers and three MEMS-based gyros to monitor the translational and rotational components of motion at the same physical point. This is used to determine the location of the center of rotation of a rigid body inside space. This compact, cost-effective, robust, titanium sealed sensor fits your most challenging real-world 6DOF application needs, including laboratory weather-exposed test track and laboratory environmental simulation condition. 
The 7576A family utilizes a separate MEMS chip for each acceleration and angular rate channel with high drive, low-impedance buffering for measuring acceleration and angular velocity in commercial and industrial environments. Series 7576A is offered in a variety of ranges to accommodate a myriad of motion applications. Sensors can be powered with any power supply that is capable of producing voltages from 5 to 30 VDC with at least 12 mA of current. The voltage output from the sensor, depending on the measurement, can swing around 2.5 Volts, as low as 0 volts and as high as 5 Volts.
Typical uses for the 7576A series include but are not limited to the following test applications: vehicle dynamics, ride and handling, rollover, automotive safety, aerospace testing, large machinery including industrial off-road, aircraft flight dynamics, aircraft ground test, helicopter evaluation, amusement ride, and playground surface investigation.
For more information about the 7576A series or other products available from Dytran, please call 818-700-7818 or email sales@dytran.com for more information and pricing.
About Dytran Instruments, Inc.:
Dytran Instruments, Inc. is the industry leader in innovative sensor technologies for product development testing and embedded solutions. Dytran specializes in designing and manufacturing custom high-end sensors, including piezoelectric and MEMS accelerometers, dynamic force and pressure transducers, USB accelerometers with software included, and digital bus-based sensors. Our products are used extensively in aerospace, automotive, military, R&D, test and measurement and industrial applications. Founded in 1980, we are an AS9100 and ISO17025 / A2LA certified company. Dytran has been serving the test and measurement community with innovative products and outstanding customer service for over 30 years. With a worldwide network of distributors and representatives, Dytran is ready to work closely with customers in developing unique solutions to their test and measurement challenges.
Learn more at www.dytran.com and on Linkedin, Facebook and Twitter.
Editorial Contact:
Judith Villalobos
Marketing Specialist
Dytran Instruments, Inc.
21592 Marilla Street
Chatsworth, CA 91311
Tel: 818-700-7818     
More from Sensors, Monitors & Transducers