New RiVar AIO POS Touchscreen Terminal Supports Windows 10, Android, Linux and Ubuntu Operating Systems
Press Release Summary: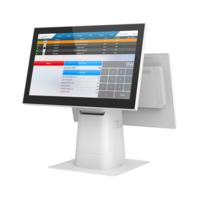 Features fan-less 15.6 in. full HD touchscreen flat panel PC and uses Intel® Celeron® Apollo Lake platform
Ergonomic desk stand connected to disk that allows the panel PC to perform left-right rotation and up-down tilt
Equipped with SD card slot, two USB3.0 slots and I/O ports that support USB/COM/RJ45/RJ11 connection
---
Original Press Release:
Avalue Launches Dual-Display AIO POS Touchscreen Terminal RiVar
Enables rapid expansion with modular versatility
May 18th, 2020, Taipei, Taiwan – Avalue Technology Inc. (TAIEX: 3479-TW), a global industrial PC solution provider and an associate member of the Intel® Internet of Things Solutions Alliance. Having won the iF Design Award for its mini POS terminal RiPac-10P1's compactness, excellent operability, and sophisticated and innovative exterior design, Avalue is determined to continue its winning streak with the launch of its advanced version RiVar. While it has kept the POS terminal's all-in-one functions, the greatest change to its exterior is the shift to desk stand from its previous triangular form, allowing users to view the screen at a more ergonomic angle. Its dual displays and versatile expansion options also meet requirements of different businesses and make assembly and maintenance more convenient. Suitable for use in any system that requires human-machine interface (HMI), such as self-service ordering system, ticket machine, kiosk, digital display, cash register and kitchen display system (KDS), it enables information input, display, monitoring and preview.
With clean, simple and stylish design, RiVar multifunctional POS terminal features a fan-less touchscreen flat panel PC that measures only 1.4cm. Lightweight, thin and noiseless, it uses Intel® Celeron® Apollo Lake platform, and supports Windows 10, Android, Linux Ubuntu operating systems. Fitted with a rapid guide track, the 15.6-inch Full HD touchscreen flat panel PC can be easily installed on a desk stand. The ergonomic desk stand is connected to a disk which allows the panel PC to perform left-right rotation and up-down tilt, allowing user-friending viewing. Configured with a SD card slot and two USB3.0 slots below the screens, its rich I/O ports allows for further connectivity and expansion of storage devices at any time. Card reader or fingerprint reader may also be installed on the side of the screen. Designed like a transformer robot, the Avalue multifunctional POS terminal RiVar's panel PC may be removed from its desk stand and mounted on the wall by installing a wall mount bracket at the back of the PC. 
Lightweight but sturdy, the desk stand makes it easy to tuck away unsightly cables and wires to keep the desktop clean and neat. Its integrated auto-cut thermal printer supports 58/80mm paper roll, which can be easily loaded by opening the printer directly. Expansion ports at the base of the desk stand also support USB/COM/RJ45/RJ11 connection. The extensively modular design of RiVar has come from the Avalue R&D team's customer-centric perspective, which has increased the versatility of upgrades, and decreased complexity and difficulty of maintenance. The Avalue RiVar takes its expandability so far that you can even add in another screen! The second touchscreen panel, which can be tilted up and down, will make it easy for customer viewing and can be installed in just seconds. Options include PCAP (projected capacitive input) touchscreen panel, lens and NFC/RFID. For a dual-display arrangement, you can choose either a portrait or landscape view, and the terminal itself is available in either black or white. In comparison to normal large-size kiosks, the 15.6-inch RiVar is compact and lightweight, allowing for more efficient use of space. Its plug-and-play capability also means you only need one RiVar terminal to quickly expand your fleet of stores!
In step with the trend toward smart self-service, multifunctional POS terminal RiVar can be connected to various modular systems, including NFC card reader, ticket printer and fingerprint reader, achieving the operational goal of saving manpower. Furthermore, in the wake of the severe coronavirus pandemic recently, RiVar multifunctional kiosk reduces the chances of infection from human contact. The entire terminal can be cleaned and sterilized at any time; simply wipe the surface with a clean cloth doused with 70% alcohol, or use any laptop cleaning kit available from retailers. Suitable for use in any system that requires human-machine interface, the RiVar's modular parts and configurations are expandable, versatile and easy to maintain and replace, allowing manufacturers to leave room for versatile assembly and expansion during initial setup.
Visit www.avalue.com.tw for more information on Avalue products, or contact sales@avalue.com.tw to talk to our sales team.
About Avalue Technology
Avalue Technology (TAIEX: 3479-TW) is a professional industrial computer manufacturing company, who is dedicated to developing the x86 and RISC architecture products, including Industrial & Embedded Motherboard, Industrial Computer, Panel PC, System On Module, POS Terminal, Tablet, Software and various IOT ready products. Having expanded, Avalue offers its expertise on PCB/ Assembly/ BIOS version control and all types of after-sales services. An ISO 9001:2008, ISO 13485:2003, ISO 14001:2004 and OHSAS 18001:2007 certified company; Avalue offers assurance to customers in every aspect of business. With headquarter located in Taiwan, Avalue has global subsidiaries, including offices in Shanghai, New Jersey, California and Tokyo. In addition, Avalue Technology operates an extensive distribution network to accommodate and serve customers all around the world.
Media Contact:
Email: pr@avalue.com.tw
Related