New Rigid Anchors Meet Cal/OSHA Standard
Press Release Summary: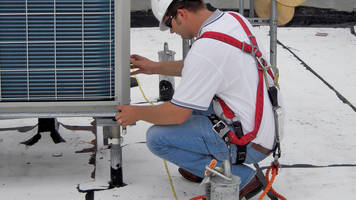 Available in bolt-on, bolt-around, cast-in-place, epoxy-adhesive, and weld-on styles
Each option comes with three diverse attachment points, depending on the application
Ideal for roof tie-back applications
---
Original Press Release:
New Kee® Rigid Anchors Meet Cal/OSHA Code for Roof Tie-Back Applications
(DECEMBER 2020) – According to the State of California Division of Occupational Safety & Health (Cal/OSHA) Title 8, Article 5, Section 3291 (f), roof anchors set at no less than 12 feet apart are required on buildings greater than 48 feet (or 4 stories) in height. New Kee Rigid Anchors from Kee Safety®, Inc. are now available to meet all requirements of the Cal/OSHA design standard, including:
"Roof tie-backs shall have at least a 2-inch inside diameter closed 'eye'.
"Tie-back assembly shall be hot-dip galvanized or afforded equivalent corrosion resistance.
"Assembly and anchorage provisions adequate to sustain a 5000-pound load applied in any direction without permanent deformation."
"Cal/OSHA standards are more rigorous than the standard regulations set forth by OSHA, ANSI and IWCA in the 49 other states," said Paul Bowes, Technical Manager for Kee Safety. "Kee Rigid Anchors are Cal/OSHA-compliant and are built to meet these strict specifications," he added.
The Cal/OSHA standard states that the tie-back systems should be installed at the roof level for the purpose of securing or tying back suspended scaffold hooks or clamps and safety lines. Buildings constructed 36 feet (3 stories) are also required to have permanent tie-backs unless window washing and unscheduled maintenance can be conducted from ground-based equipment.
The new line of Kee Rigid Anchors is available in Bolt-on, Bolt-around, Cast-in-place, Epoxy-adhesive, and Weld-on styles to meet a wide range of building and roof types. Each option is available with three diverse attachment points, depending on the application, including a forged D-Ring system, Stainless Steel U-Bar model, or a Tapped Hole option for horizontal lifelines, Kee Safety said.
For specific information, visit: https://keesafetyus.com/PR-Dec20
For additional information, contact: Tim Shaddock, Kee Safety, Inc., 100 Stradtman Street, Buffalo, NY 14206. 716-710-2268 • Email: tshaddock@keesafety.com www.KeeSafety.com.
Contact This Company Download Spec Sheet
More from Fasteners & Hardware