New RIFLINE Complete Relays are Enhanced with Screw Connection Technology
Press Release Summary: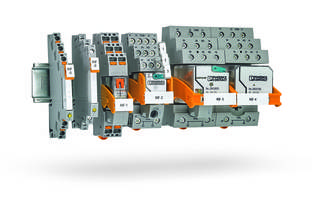 Phoenix' Ice-Cube Style RIFLINE Complete Relays feature range of options to isolate, amplify or convert signals. Units are offered with plug-in bridges, test plugs, end clamps, and marking terminal block accessories. The relays can be operated as three-function timer relay using an optional plug-in timer module. Units allow the technician to change configuration on the fly with less hassle.
---
Original Press Release:
Ice Cube-Style Relay for Flexibility and Universal Bridging Rifline Complete Now Available with Screw-Connection Technology
Middletown, Pa. – Phoenix Contact's line of industrial ice-cube relays – RIFLINE Complete – now includes screw-connection technology to complement the RIFLINE PT push-in relays. The ice cube-style relays have a wide range of options to isolate, amplify, or convert any signal.
The RIFLINE Complete modular relay system utilizes common Phoenix Contact terminal block accessories such as plug-in bridges, test plugs, end clamps, and marking, all at an economical price point. This compatibility simplifies installation, saves on installation effort, and reduces inventory requirements and component storage space.
RIFLINE's modular design offers the flexibility to change configuration on the fly or replace worn components with little hassle and no need to rewire. An optional plug-in timer module permits RIFLINE relays to operate as a three-function timer relay.
Phoenix Contact modernizes industrial relays with available screw and PT push-in terminations, easy marking, and universal bridging. RIFLINE Complete relays are available as fully assembled modules, saving a considerable amount of assembly time and labor. Individual relay components are also available to customize a solution for specific application needs. 
This versatile relay series can switch or multiply signals using 6.2-mm interface relays or 4PDT (four-pole, double-throw) ice-cube relays just as easily as it can switch power circuits using octal relays or 3PDT miniature power contactors. RIFLINE Complete offers solutions for nearly every switching application. Learn more at www.phoenixcontact.com/rifline.
About Phoenix Contact
Phoenix Contact develops and manufactures industrial electrical and electronic technology products that power, protect, connect, and automate systems and equipment for a wide range of industries. Phoenix Contact GmbH & Co. KG, Blomberg, Germany, operates 50 international subsidiaries, including Phoenix Contact USA in Middletown, Pa.
For more information about Phoenix Contact or its products, visit www.phoenixcontact.com, call technical service at 800-322-3225, or
e-mail info@phoenixcon.com.
P.O. Box 4100
Harrisburg, PA 17111-0100
Phone: (717) 944-1300
Fax: (717) 944-1625
E-Mail: awright@phoenixcon.com
Alison Wright
Public Relations
More from Fluid & Gas Flow Equipment