New RF Cable Assemblies and Interconnects Operate to 6 GHz
Press Release Summary: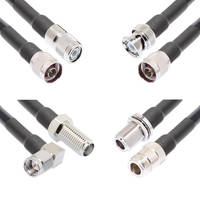 Offers performance compared to traditional RG-style coax of the same diameter
Contains various sizes of coax for different applications
Ideal for use in wireless telecom, military/defense and commercial wireless products
---
Original Press Release:
ShowMeCables Now Offering Pasternack Brand RF Cable Assemblies & Interconnects
Irvine, Calif. (June 2, 2020) - ShowMeCables, an Infinite Electronics brand and a leading supplier of connectivity solutions, is now selling Pasternack's line of RF coax cables, connectors and assemblies for use in wireless telecom, military/defense and commercial wireless products.
This line of Pasternack brand RF cable assemblies and interconnects consists of 30 base models and 150 total SKUs. These models operate to 6 GHz and contain various sizes of coax for different applications. They are constructed with authentic Times Microwave low-loss coax and most orders can be built and shipped same day. These high-quality, Pasternack products are outdoor-rated and designed to deliver low-insertion-loss per foot.
"We are excited to offer these RF cable assemblies from Pasternack. This product line combines the high quality materials that Times Microwave is known for, with the outstanding customer service that ShowMeCables provides," explained Steve Ellis, Sr. Product Line Manager.
The Times Microwave low-loss LMR-series coax used in this line boasts an expanded foam dielectric and multiple shields, offering superior performance compared to traditional RG-style coax of the same diameter. These high quality Pasternack assemblies are available from ShowMeCables in both standard and custom configurations to meet the customers' needs.
For detailed information on these products, please visit https://www.showmecables.com/by-category/cables/coax-cables
For inquiries, ShowMeCables can be contacted at +1-888-519-9505.
About ShowMeCables:
ShowMeCables is a leading eCommerce brand that specializes in providing a large portfolio of in-stock IT, voice, video, and data network cables and connectivity products. ShowMeCables is the chosen supplier for network and IT infrastructure cable assemblies used by professional installers and consumers alike. Backed by a highly knowledgeable support staff of industry experts, the company offers its full inventory of in-stock products while also providing best-in-class customer and technical support. ShowMeCables is an Infinite Electronics company.
About Infinite Electronics:
Based in Irvine, Calif., Infinite Electronics offers a broad range of components, assemblies and wired/wireless connectivity solutions, serving the aerospace/defense, industrial, government, consumer electronics, instrumentation, medical and telecommunications markets. Infinite's brands include Pasternack, Fairview Microwave, L-com, MilesTek, Aiconics, KP Performance Antennas, PolyPhaser, Transtector, RadioWaves, ShowMeCables, INC-Installs and Integra Optics. Infinite Electronics serves a global engineering customer base with deep technical expertise and support, with one of the broadest inventories of products available for immediate shipment.
Press Contact:
Peter McNeil
ShowMeCables
17792 Fitch
Irvine, CA
978-682-6936
Katee Schalau
Technical Content Specialist
17792 Fitch | Irvine, CA 92614
(O) 978-682-6936
(C) 904-814-5444
kschalau@infiniteelectronics.com
www.infiniteelectronics.com
More from Machinery & Machining Tools