New Rex Plus II Electronic Watchdog Offers Detection Angle Up to 150 Degrees
Press Release Summary: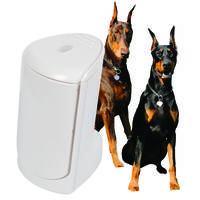 New Rex Plus II Electronic Watchdog is designed for detecting burglars. The unit features electronic radar eyes that can see through thick doors, walls and glass. It detects intruder movement and emits frequent sounds when the intruder comes closer and decreases the frequency as the intruder backs off. The watchdog comes with a water resistant flip top and provides an adjustable detection range up to 26 ft.
---
Original Press Release:
Electronic Watchdog
August 21, 2018 – Rex Plus® II, the electronic watchdog alarm, is versatile and provides an excellent way to deter burglars, without the responsibility of owning a real dog. Rex II is always on duty guarding and protecting, yet doesn't require sleep, food, water or the necessary cleanup that comes with owning a pet.
With his electronic radar eyes, Rex II can "see" through thick doors, walls and glass. When movement is detected, he starts to emit sound (select from two barking sounds). The closer an intruder gets, the more frequent the barking becomes. As the intruder backs off, the barking decreases in frequency, stopping completely when movement is out of range. Rex II also offers a siren or a pleasant greeting.
Water resistant flip top provides easy access to the controls. Simply plug unit into a standard electrical outlet or power with six (6) C batteries. Detection range: adjustable up to 26 feet (range reduced through obstructions). Detection angle: 150 degrees. Easy setup with voice messages or prompts.
To order or for more sales information on Rex Plus II Electronic Watchdog (ED-55), call 800-888-4784, fax 248-673-1246, email info@sti-usa.com or visit www.sti-usa.com. STI's address is: 2306 Airport Road, Waterford, MI 48327-1209.
Contact This Company Download Spec Sheet
More from Electrical Equipment & Systems