New Recycled Plastic Products for Environmental Protection and Energy Saving
Press Release Summary: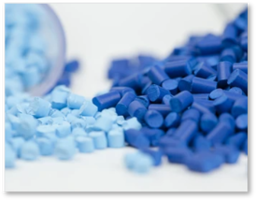 Various recycled plastics includes polypropylene, polyethylene, ABS, HIPS
Low temperature resistance, good chemical stability and can withstand the erosion of acid and alkali
Applications include machinery, automobile, electronic appliances, instrumentation and textile
---
Original Press Release:
Alfa Chemistry Starts to Offer Recycled Plastic Products
The past decade has witnessed the advent of a new recycled plastics revolution. As a supplier of functional polymers, Alfa Chemistry recently announces that it is starting to offer recycled plastic products for customers who are interested in saving resources and protecting the environment by doing so.
Using the recycled plastic as raw material, and together with physical or chemical methods like pretreatment, melting granulation and modification, plastic products can be re-produced for use in manufacture or research.
"Overall, the prospect of recycled plastic is broad. It's not just about turning the waste into treasure, but more about truly achieving environmental protection and energy saving," says the Marketing Chief of Alfa Chemistry. "Another evident advantage for the recycled plastic is their cheaper price, which increases their popularity among both manufacturers and consumers. We can provide professional product customization services based on customer's different requirements. The tailor-made recycled plastic products can be used for the construction industry, chemical industry, machinery industry, etc."
Varieties of recycled plastics at Alfa Chemistry:
Recycled Polypropylene, a semi-crystalline thermoplastic widely used in the production of electrical appliances, TV parts and other flame retardants.
Recycled Polyethylene, a thermoplastic resin that has excellent low temperature resistance, good chemical stability, and can withstand the erosion of most acid and alkali.
Recycled Acrylonitrile Butadiene Styrene (ABS), which can be widely used in machinery, automobile, electronic appliances, instrumentation, textile and other industrial fields.
Recycled High Impact Polystyrene (HIPS), an impact resistant product that has economic benefits and high cost performance.
Right now, Alfa Chemistry offers the following recycled plastics:
ABS QY-5005
ABS QY-6001
HIPS QY-1605
HIPS QY-1609
HIPS QY-2601
PP QY-8001
PP QY-8002
As a supplier of a wide range of functional polymers such as adsorptive polymers, biomedical polymers, electrofunctional polymers, functional PEGs, photoactive polymers and silicone polymers, Alfa Chemistry feels it truly a great responsibility to reduce waste on Earth and therefore would like to contribute to environmental protection. More information about its offering of recycled plastics can be found here: https://functional-polymers.alfa-chemistry.com/products/recycled-plastics.html.
About Alfa Chemistry
Always having a close eye on the research hotspots and development trends, Alfa Chemistry is never absent from bringing the best, new and novel chemicals and materials to its customers worldwide. A lot of work has been done to make it easier for customers to find exactly what they want.
Contact:
Tylor Keller
+1-516-734-6573
[email protected]
Fax: 1-516-927-0118