New RD and PD Series Enclosures are Designed for Variable Refrigerant Flow/Volume Multi-Split Systems
Press Release Summary: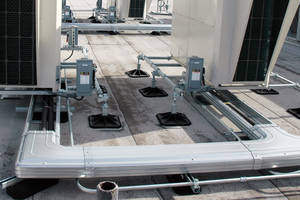 Marketair's VRF/VRV Lineset Enclosure Systems include RD-series (rectangular metal) and PD-series (round PVC) models. RD-series enclosures feature chromium-free ZAM® coating. Units are available in 12, 18, 24 and 36 in. widths and accommodate RD-300 (13), RD-450 (19), RD-600 (26) and RD-900 (38) linesets. PD-Series enclosures are offered in following diameters 3.5 in. (PD-90), 4.7 in. (PD-120) and 5.5 in. (PD-140). Units are suitable for any air conditioning, refrigeration or industrial cooling process equipment.
---
Original Press Release:
Marketair Introduces the RD-Series and PD-Series of Commercial VRF/VRV Lineset Enclosure Systems
Marketair, Edison, N.J., a leading importer, exporter, manufacturer and exclusive agent specializing in components and accessories for the HVAC industry, introduces the RD-Series and PD-Series, the world's only commercial rooftop enclosure and support systems. Both series are manufactured by Osaka, Japan-based Inaba Denko, and designed exclusively for multiple linesets used with variable refrigerant flow/volume (VRF/VRV) multi-split systems. They are used extensively across the globe.
Marketair's RD-Series (rectangular metal) and Series PD-Series ( round PVC) are the most practical, economical, durable, aesthetic and professional enclosure solutions for protecting multiple linesets commonly used with the emerging North American rooftop VRF system market. Both series complement each other and potentially save up to 35-percent in contractor labor compared to custom-fabricated galvanized sheet metal lineset ducting or other fabricated, labor-intensive alternatives. They are essential for preventing mechanical damage as well as premature insulation degradation from ultraviolet (UV) light, and animal and insect pests.
The RD-Series comprises roll-formed rectangular sheet metal lineset duct and fittings. It features a proprietary, anti-corrosive, scratch-resistant hot-dipped and chromium-free ZAM® coating (Zinc, Aluminum and Magnesium) that provides a superior, more durable alternative to galvanized steel. Widths for the RD-300, RD-450, RD-600 and RD-900 are 12, 18, 24 and 36-inch (304.8, 457.2, 609.6, and 914.4-mm) respectively and all are 5-1/8-inches (131-mm) high. Based on a 3/8 x 3/4-inch (9.5 x 19-mm) lineset with 1/2-inch (12.7-mm) insulation on both lines, the RD-Series can accommodate the following number of linesets: RD-300 (13), RD-450 (19), RD-600 (26) and RD-900 (38).  
The PD-Series is UV, fire, impact and weather-resistant, ivory-colored extruded round PVC lineset enclosures. It's designed for stand-alone use on smaller VRF projects, or it can function as a complementary transition piece between a condenser and a RD-Series run of multiple linesets. The duct lengths snap together lengthways and all fittings open in halves for easy access. It's available in three sizes–the PD-90–3.5-inch diameter (88.9-mm); PD-120–4.7-inch diameter (120-mm); and PD-140–5.5-inch (140-mm). The PD-90 and PD-120 sizes are available only in 78.75-inch (200-mm) lengths.
Because of its sleek profile, smooth surface and neutral color, the PD series is also suitable for use indoors to conceal and protect unsightly exposed linesets, drain lines and cables. 
Similar to the RD-Series, each size comes with a selection of 90 and 45 degree elbows, couplers, tees, wall flanges, end caps and mounting brackets which can be customized to suit any lineset configuration.
Other features of the RD-Series and PD-Series include:
Better corrosion-resistance than galvanized steel, according to third-party certification tests performed by the Building Center of Japan and Japan's Civil Engineering Research Center;
Two-year warranty;
Vertical and horizontal capabilities to protect linesets associated with any air conditioning, refrigeration or industrial cooling process equipment;
Free design services through trained technical support personnel; 
On rooftop systems, if any of the RD duct is required to act as a walkway, a reinforced heavier gauge cover plate with a non-skid surface (Type RDW) is available as a special order option;
•            Full inventory of stock is warehoused in the central U.S. and available for three-day drop shipping anywhere in North America;
•            Availability through conventional HVAC wholesale distributors as well as through Marketair's bid/spec manufacturer's representative network.
For more information on the RD-Series or PD-Series or to receive a free Marketair HVAC/R products catalog, please visit www.marketair.com, call (732) 985-8226 or email info@marketair.com.
About Marketair: Originally founded by President Gerry Spanger as a manufacturer's representative company in 1986, Marketair has now reinvented itself as an importer, exporter, manufacturer and distributor specializing in components and accessories for the HVAC industry. Headquartered in Edison, N.J., Marketair has acquired several innovative new products for commercial and residential HVAC applications, covering both the ducted and minisplit (ductless) sectors. Marketair also operates as a national distributor for smaller independent U.S. manufacturers. The company has established a national network of manufacturer's representatives through which these products are sold in the HVAC/R industry wholesale distributors. It has also established a centrally-located warehouse for shipping products throughout the U.S. 
Contact:
Gerry Spanger     or                                          John Parris Frantz
Marketair Inc.                                                    JPF Communications Inc.
(732) 985-8226                                                 (773) 871-600
gerry@marketair.com                                     john@jpfcomm.com
More from Machinery & Machining Tools