New Radial Ball Bearings Can Withstand in Extreme Environments
Press Release Summary: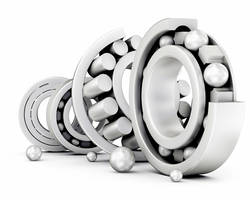 Available in four types: deep groove, angular contact, spherical and thrust bearings        
Features ZrO2 (Zirconia) Ceramic balls and are FDA/UDSA/3A Dairy compliant
Working temperature ranging from -80OC to 400OC and are ideal for FDA/USDA, medical, bio/pharma, aerospace, marine applications
---
Original Press Release:
ZrO2 Zirconia Ceramic Radial Ball Bearings For High Loads are FDA/USDA/3A-Dairy Compliant!
E. Longmeadow, MA – LM76 has announced the release of their new line of Radial Ball Bearings featuring ZrO2 (Zirconia) Ceramic balls. To Complement LM76's broad range of Linear Bearings that are FDA/UDSA/3A Dairy compliant, as well as linear bearings for extreme environments; they have added Deep Groove bearings which accommodate radial and axial loads, Angular Contact bearings for simultaneously handling radial and axial loads, Spherical Bearings which are self aligning, and Thrust Bearings for high axial loads. Each of the four types of metric bearings are available in a wide range sizes.
 The advantages of ZrO2 ceramic balls are: FDA/USDA/3A Dairy/Caustic washdown compliant, lighter than steel balls and can be used at extreme RPMs, they withstand higher loads without spalling, have a lower coefficient of friction, are inert to chemicals, have no magnetic signature, and are non conductive.
With the addition of these radial bearings with ZrO2 Ceramic balls LM76 has increased "The Engineering Edge" it has in providing bearings and components for FDA/USDA, Medical, Bio/Pharma, Aerospace, Marine, and other out-of-the-box applications. These bearings have a working temperature range of -80OC to 400OC, they will not deform under load, and require no lubrication.
Founded in 1976, LM76 has been a leading designer/manufacturer of linear bearings, slides and linear motion systems. LM76 is renowned for its industry leading Minuteman Teflon® Composite linear bearings. LM76 is a leading supplier of precision linear shafting: RC60, 300 Series Stainless Steel, and ceramic coated aluminum shafting. LM76 also offers several FDA/USDA compliant linear bearings and slides for the food processing, pharmaceutical, medical, and packaging industries.
For additional information contact Mike Quinn at: LM76, 140 Industrial Dr.
E. Longmeadow, MA 01028; Telephone: 413-525-4166, Fax: 413-525-3735 or E-Mail: mquinn@lm76.com or visit the Web site at: www.lm76.com.
Send Inquiries to--
LM76
140 Industrial Dr.
E. Longmeadow, MA 01028
413-525-4166
More from Electrical Equipment & Systems