New Rackmount Servers Available in Air-cooled and Conduction-cooled Versions
Press Release Summary: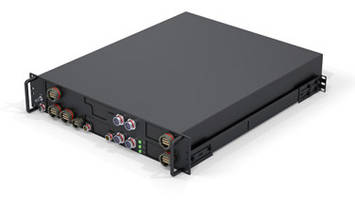 TITAN uses up to four of Intel's latest 2nd gen Scalable Xeon® processors
Includes CPU cores, networking I/O, memory, PCIe card add-in options, removable encrypted storage
Consist up to 10 PCIe Gen 3 add-in slots for program-specific functionality, I/O or custom functions
---
Original Press Release:
General Micro Systems (GMS) Launches TITAN, The First Sealed, Conduction-Cooled, AI-Equipped, 1U/2U Rackmount Servers Offering Superior Ruggedness, Reliability, and Performance
Like all GMS systems and servers, these new offerings are designed, sourced and manufactured in America
Washington, D.C., October 14 — At the Association for the United States Army (AUSA) conference today, General Micro Systems (GMS) launched the industry's first sealed, fanless, conduction-cooled rackmount servers with artificial intelligence (AI) and mil-circular (38999) connectors for superior ruggedness in the most demanding defense and aerospace applications. The American-designed, sourced, and manufactured TITAN, a fully configurable server, also uses up to four of Intel's latest 2nd gen Scalable Xeon® processors, with all features coming together in a 1U or 2U chassis to provide the performance, mil-spec reliability, and complete silence required for extremely rugged battlefield environments.
"Many military designers continue to use commercial off-the-shelf (COTS) air-cooled, rackmount servers in buildings, command posts, ships and submarines, or even in the back of MRAPs and Strykers, but servers designed for data centers can't handle the dirt, dust, chemicals, or extreme temperatures they will encounter in the field," said Ben Sharfi, chief architect and CEO, General Micro Systems. "The sealed, fanless, expandable and dense TITAN offers everything these designers want in a deployable rackmount server: superior processing performance, American reliability and ruggedness, and more expandability options and secure data storage than found in any other 1U or 2U rackmount server. Even better, we've done it all—from design to manufacturing—here in America. We made no compromises at all when creating this server."
Extreme Density, Expandability, and Conduction Cooling Sets TITAN Apart
TITAN differs from other rackmount servers on the market in part for its extreme density and expandability. As a single 1U or 2U chassis, each TITAN combination includes more CPU cores, networking I/O, memory, PCIe card add-in options, removable encrypted storage, and reliably cooled Nvidia® Tesla general-purpose graphics processing unit (GPGPU) AI
co-processors than any other 1U or 2U rackmount server.
TITAN is available in both air-cooled and conduction-cooled versions. The latter offers the superior reliability conduction cooling has become known for in fighter aircraft and armored vehicles, with sealed systems that dramatically reduce radiated emissions and offer superior TEMPEST results and better security. Without fans, TITAN rackmount servers can be placed in close proximity to operators who no longer need to wear uncomfortable hearing protection for noise mitigation. In addition, available "keyed" 38999 military-style connectors ease installation and maintenance, and radically increase the mean time between failure (MTBF) as compared with flimsy COTS connectors.
In addition to boasting 96 total cores, the unique 4-way, quad-socket, Intel 2nd gen Scalable Xeon® processors are ideal for high-performance computing (HPC), symmetric multi-processing (SMP), NUMA architectures, AI, data mining, image processing, and more. The fully configurable TITAN can include the following capabilities: 
Up to two Nvidia Tesla V100 enterprise-class GPGPU co-processors for AI workloads—offering data center performance right on the battlefield (up to 400 TFLOPS)
A first-of-a-kind removable Secure High-Speed Storage (SHS) canister with up to 64 TB of RAID-encrypted storage for data recorders, sensor data storage, or system de-classification
1/10/40Gb Ethernet built in with copper or fiber ports, plus available embedded 20-port switch—all via the 38999 mil-circular connectors or standard COTS connectors
Up to 10 PCIe Gen 3 add-in slots for program-specific functionality, I/O, or custom functions
Dual-redundant 110/220 VAC 60 Hz/400 Hz power supplies for each CPU pair; MIL-STD-704 with 50 ms hold-up recovers from "dirty" power found in typical military systems
Dedicated out-of-band remote management via IPMI
GMS SourceSafe™ BIOS and SecureDNA™ firmware/BIOS/storage sanitization
"The TITAN family of rackmount servers also allows program-specific customization for any application or platform requirement, putting them—especially the fully equipped, conduction-cooled option—into a class of their own," Sharfi added.
Where: Booth #7664 at the Association of the United States Army (AUSA) annual meeting in Washington D.C., Oct. 14-16, 2019.
For interviews at the show, ask for Kelly Wanlass at 801-602-4723 or [email protected], or GMS CTO Chris Ciufo at (360) 921-7556 or [email protected].
About General Micro Systems:
General Micro Systems (GMS) is the rugged server company. The company is known as the industry expert in highest-density, modular, compute-intensive, and rugged small form-factor embedded computing systems, servers, and switches. These powerful systems are ideal for demanding C4ISR defense, aerospace, medical, industrial, and energy exploration applications. GMS is an IEC, ISO, AS9100, NIST-800-171, and MIL-SPEC supplier with infrastructure and operations for long-life, spec-controlled, and configuration-managed programs. Designed from the ground up to provide the highest performance and functionality in the harshest environments on the planet, the company's highly customizable products include GMS Rugged DNA™ with patented RuggedCool™ cooling technology. GMS is also the leader in deployable high-end Intel® processors and a proud Intel® partner since 1986. For more information, visit www.gms4sbc.com
Contacts:
Hughes Communications, Inc.
Kelly Wanlass
801-602-4723
[email protected]

General Micro Systems
Chris A. Ciufo
360-921-7556
Source: General Micro Systems