New r500 Laser-Cutting System is CE Certified
Press Release Summary: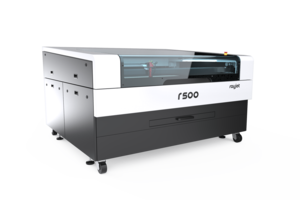 Features open and ergonomic design with 51 in. x 35 in. (1300mm x 900mm) bed size
Comes with double interlock system and safety kill-switch
Offered with Rayjet Manager workflow software that provides step-by-step instructions with logical and intuitive functions
---
Original Press Release:
Rayjet Wide-Format Laser Cutter to Make Debut at NBM Long Beach
Laser manufacturer to unveil new laser cutting system designed for efficient and economical processing of wide-format applications
Plymouth, Mich., August 15, 2019 – Rayjet Laser, a division of Trotec Laser, Inc., will unveil the r500 laser-cutting system at the NBM Long Beach show this week. With a generous and ergonomic working area, sophisticated and intuitive workflow software, and the industry's highest safety standards, the r500 provides the industry with a safe, user-friendly, cost-effective, and locally supported solution for cutting wide-format materials.
Designed to comply with stringent production standards and European manufacturing and design principles, the r500 is also the only laser safety class 2 system in its price range—meaning that it meets U.S. manufacturing safety requirements for use in public spaces, and does not require operators to wear protective gear such as safety goggles. The new laser cutter, which is also CE certified, includes safety features such as a double interlock system and a safety kill-switch.
The system features an open, ergonomic design with a generous 51" x 35" (1300mm x 900mm) bed size that fits most standard material sheet sizes, and up to 100 Watts DC of laser power, allowing you to easily and efficiently cut and engrave a wide range of materials such as plastics, paper, textiles, acrylics, wood and many more materials with thickness up to 1/2" in. (15mm). The included Rayjet Manager workflow software provides easy, step-by-step instructions with logical and intuitive functions, allowing you to make a fast transition from job layout to final product.
"We are thrilled to offer this safer, high-quality alternative to businesses who need an efficient and economical laser cutting machine," says Warren Knipple, President at Trotec Laser. "It's simple to use, yet you can produce highly sophisticated and precise designs. It's cost-effective but still meets the most stringent standards for safety, design and manufacturing."
About Trotec and the Rayjet division
Rayjet Laser is a division of Trotec Laser, Inc. Trotec Laser is a leading international provider of advanced, high-speed laser equipment for cutting, engraving and industrial marking. With the broadest product line on the market, Trotec systems are used to cut, engrave or mark a wide range of materials including wood, paper, metal, acrylic, leather, stone, plastics, and more. The company's extensive line of quality laser systems, coupled with its unmatched service and support offerings, have made Trotec one of the industry's leading resources for computer controlled engraving equipment and marking systems. Trotec highly values innovation and R&D; in fact, over a decade ago Trotec developed the world's first laser system that combines CO2 and fiber laser technology in one machine. All major equipment components and products are manufactured in the U.S. and Austria. Trotec machines are currently used in more than 90 countries around the globe. With 500 employees working in 17 international sales branches, Trotec offers customers an international service and sales network. Trotec's U.S. presence is headquartered in Plymouth, Mich., with additional service and support centers in Anaheim and the San Francisco Bay area, Calif., Arlington, Texas, Atlanta, Ga, Hillsborough, N.J., Raleigh, N.C., Dade City, Fla., Phoenix, Ariz., and the Seattle area. For more information, please visit www.troteclaser.com.
For further information:
Trish Steding
Tel.: 866-226-8505
Email: sales-us@rayjetlaser.com
Contact This Company Download Spec Sheet
More from Agricultural & Farming Products