New R21 Adds Frequency Analysis Capabilities
Press Release Summary: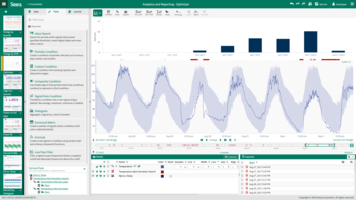 Transform segments of time-series signal into frequency domain
Serves chemical, refining, power, oil and gas, pharmaceutical, mining, food and beverage industries
Enables engineers and scientists to rapidly analyze, predict, collaborate and share insights to improve production outcomes
---
Original Press Release:
Seeq to Exhibit and Present at BioProcess International Conference
Seeq's vision for accelerating insights on pharma and biotech manufacturing data is being realized by numerous industry end users.
Seattle, September 4, 2019 – Seeq Corporation will be exhibiting in booth number 1231 at the BioProcess International Conference to be held at the Boston Convention and Exhibition Center from September 9-12, 2019. Please click on this URL for agenda, housing and other details: https://lifesciences.knect365.com/bioprocessinternational/
Lisa J. Graham, Ph.D., P.E. and Seeq's VP Analytics Engineering, will be presenting on Opportunities in Continuous Manufacturing: What Can We Learn from Other Industries to Guide a Successful Data Analytics and Process Control Paradigm on September 12th from 2:30-3p. Please click on this URL for more details regarding Dr. Graham's presentation: https://lifesciences.knect365.com/bioprocessinternational/speakers/lisa-graham-phd
"As pharma faces two of the highest priority pressure points in the industry, reducing time to market and optimizing commercial throughput to meet changing market demands, rapid insight into process performance is critical," points out Dr. Graham. "There is significant value in understanding what can be learned from other industries to accelerate this progress in pharma."
At their booth, Seeq will be demonstrating their latest release, R21, an advanced analytics solution for process manufacturing. Seeq enables engineers and scientists in process manufacturing organizations to rapidly analyze, predict, collaborate, and share insights to improve production outcomes. Customers include companies in the chemical, refining, power, oil & gas, pharmaceutical, mining, food and beverage, and other process industries.
"The rapid pace of Seeq innovation is leading to bigger customer engagements and even faster insights and impact from production data," says Steve Sliwa, CEO and Co-founder of Seeq Corporation. "We are growing the organization quickly to keep up with customer needs in training, use case development, and core feature development."
New R21 features reflect both the growing use of Seeq for publishing analytics-based views to other employees, and the increased complexity of the use cases where engineers use Seeq. For publishing insights, Seeq has expanded "scorecards," a feature for the display of calculated tables in Seeq Workbench and Organizer. Scorecards are used for tabulated metrics, measurements, and other summary data, and may be presented in tables with conditional formatting support and user-defined columns, for example roll-ups by batch or plant.
In addition to new scorecard and other features, R21 also adds frequency analysis capabilities, often referred to as "FFT," to transform segments of a time-series signal into the frequency domain. Seeq users access the frequency analysis tool via an intuitive panel which guides them through the transformation process and displays results as a power spectrum, or they can access FFT functionality as a formula in Seeq's scripting environment. 
R21 expands Seeq's recent focus on enabling larger deployments through scalability features and making the Seeq applications easier to use. R20 features, released earlier this year, include the ability to have live updates to Seeq Topics, which publish insights from Seeq to other users; expanded machine learning functionality for customers doing predictive analytics with Seeq; and an improved query model for customers accessing contextual data from SQL-based data sources to provide faster connections to big data sources.
"Seeq continues to release compelling analytics solutions for customers in process manufacturing and Industry 4.0 engagements," says Janice Abel, Principal Analyst at ARC Advisory Group. "The need for faster and better insights is a consistent requirement for customers investing in IIoT and Smart Manufacturing."
Seeq partners with many leading process automation firms including OSIsoft, Emerson Automation Solutions, Inductive Automation, Honeywell, and Schneider Electric.
Seeq also supports all leading data historians, making it the most widely accessible and extensively used advanced analytics solution in process manufacturing companies. Supported historians include the OSIsoft PI System, GE Proficy, AspenTech InfoPlus (IP) 21, Emerson DeltaV Continuous Historian and Ovation DCS Historian, Honeywell Uniformance PHD Historian, Rockwell Automation FactoryTalk Historian, Inductive Automation's Ignition Historian, DataParc Historian, Aveva's Wonderware Historian, Citec SCADA, and eDNA Historian—with others in development.
To learn more about Seeq Workbench and connectivity options visit seeq.com.
About Seeq Corporation
Founded in 2013, Seeq enables manufacturing organizations to rapidly find and share data insights. Oil & gas, pharmaceutical, specialty chemical, utility, renewable energy and numerous other vertical industries rely on Seeq to improve production outcomes, including yield, margins, quality, and safety. Headquartered in Seattle, Seeq is a privately held virtual company with employees and partners in the United States, Asia, Canada, Europe, and South America. 
Contact:
Michael Risse
Tel: 206 801 9339