New R&S ATS1500C Antenna Test System for Far-field and High Performance Radar Testing
Press Release Summary: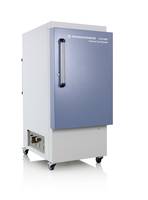 Features high accurate compact antenna test range reflector generating 30 cm diameter quiet zone for testing in the frequency range from 77 to 81 GHz
Available in combination with R&S AREG100A automotive radar echo generator for precise radar target simulation at various distances
High-precision 3D tilt-tilt positioner permits testing of premium automotive radars and absorber layout eliminates ghost targets during simulation
---
Original Press Release:
Rohde & Schwarz Enables The Development of Next Generation Automotive Radar Chips with New High-precision Test Chamber
Rohde & Schwarz has developed the leading-edge R&S ATS1500C antenna test system, a test chamber for high performance radar testing, offering an outstanding indirect far-field testing performance. This innovation allowed Uhnder to mature the technology behind the first 4D digital automotive radar-on-chip with 192 virtual channels.
Automotive radar is one of the key technologies that drives progress in the advanced driver assistance systems (ADAS) needed for future generations of driverless vehicles. At productronica 2019 in Munich, Rohde & Schwarz provided an early preview of its new solution for testing state-of-the-art, next generation automotive radar sensors. The test system consists of the new, compact R&S ATS1500C automotive radar test chamber for far-field testing, in combination with the R&S AREG100A automotive radar echo generator for precise radar target simulation at various distances. Together, they form a unique and innovative indirect far-field testing solution for reliable and reproducible verification of radar sensors throughout the R&D and validation phase in a user-friendly and extremely compact lab setup. The solution enabled the precise calibration and verification of Uhnder's new, fully integrated 4D digitally modulated automotive radar-on-chip (RoC).
The R&S ATS1500C features a high accurate compact antenna test range (CATR) reflector, generating a 30 cm diameter quiet zone for testing in the frequency range from 77 81 GHz. Its high-precision 3D tilt-tilt positioner permits testing of premium automotive radars. A carefully designed absorber layout eliminates ghost targets during simulation.
As an innovative startup, Uhnder is launching a unique automotive RoC, introducing new levels of performance and integration with a mission to redefine key technologies for safer ADAS driving. The new technology behind Uhnder's 4D digitally modulated radar chip offers groundbreaking performance by integrating 192 virtual channels – a major leap from the 8 to 24 virtual channels used in today's standard radars. A higher number of detections per frame makes it possible to track and classify objects with a processing power of more than 20 TeraOPS, despite using less than 8 watts of power. The Uhnder RoC also pioneers high contrast resolution (HCR) technology, which provides significantly improved range and angular resolution and makes it possible to separate small radar reflectors from large reflectors in proximity. This permits a more accurate and safe reaction time than with current radar chip technology and paves the way for advanced ADAS functions for today's vehicles and future driverless vehicles.
Holger Gryska, Market Segment Manager Automotive Radar at Rohde & Schwarz, says: "The joint effort with Uhnder shows how T&M expertise and industry-leading experience can generate true innovation. Both companies are known to be pioneers that excel in their fields, further advancing technologies on the road towards fully autonomous driving."
Ralf Reuter, Fellow and Senior Director of Customer and Applications Engineering at Uhnder, says, "Rohde & Schwarz was our partner of choice for developing this new technology. Our 4D digitally modulated RoC has special testing requirements and having a partner with the necessary expertise, precision and agility was vital for us. We were able to meet and even surpass our performance targets for our product and take the next step towards the truly driverless future." 
From January 7 to 10, 2020, Rohde & Schwarz and Uhnder will jointly showcase the R&S ATS1500C test solution at CES 2020 in Las Vegas. The companies' experts will offer private live demonstrations. For more information about requesting a slot, visit: http://www.rohde-schwarz.com/automotive-radar/test
Press Contact Rohde & Schwarz
Rohde & Schwarz GmbH & Co. KG
Muehldorfstrasse 15 | 81671 Munich
Christian Mokry
Tel.: +49/89 4129-13052
press@rohde-schwarz.com
www.rohde-schwarz.com
Press Contacts:
North America: Tomas Berghall (phone: +1 503 5239489; email: Tomas.Berghall@rsa.rohde-schwarz.com)
Asia Pacific: Wen Shi Tong (phone: +65 6 307-0029; email: press.apac@rohde-schwarz.com)
Automotive test solutions
As a leading global manufacturer of test and measurement equipment, Rohde & Schwarz offers expert know-how for all phases of automotive development – from predevelopment to R&D to production. OEMs, Tier 1s and chip suppliers benefit from the company's reliable solutions for high frequency, high bandwidth and high-speed test challenges. Rohde & Schwarz is the market leader for testing radar sensors, automotive Ethernet conformance, connectivity (5G, V2X, eCall, GNSS), EMI precompliance and EMC. The company also offers outstanding solutions for infotainment component and board level tests (ICT/FCT) during ECU production. All of these test solutions will ensure maximum efficiency in compliance with the highest quality standards, assuring that various automotive components function correctly, coexist successfully and communicate with the outside world without errors.
About Uhnder
Uhnder is delivering the industry's first digital automotive radar using a combination of advanced CMOS and Digital Code Modulation (DCM) technology. Uhnder's approach and technology promises to transform the automotive industry by changing the way radars work and significantly improving performance with the 3/4 additional benefits of smaller size, lower power and lower cost. For more information, visit www.uhnder.com.
About Rohde & Schwarz
Rohde & Schwarz is a leading supplier of solutions in the fields of test and measurement, broadcast and media, aerospace | defense | security and networks and cybersecurity. The technology group's innovative communications, information and security products help industry and government customers ensure a safer and connected world. On June 30, 2019, Rohde & Schwarz had about 12,100 employees. The independent group achieved a net revenue of EUR 2.14 billion in the 2018/2019 fiscal year (July to June). The company is headquartered in Munich, Germany, and has subsidiaries in more than 70 countries, with regional hubs in Asia and America.
R&S ® is a registered trademark of Rohde & Schwarz GmbH & Co. KG.
Rohde & Schwarz USA, Inc.
6821 Benjamin Franklin Dr, Columbia, MD 21046, USA
Tomas Berghall
Phone: +1-503-523-9489
Tomas.Berghall@rsa.rohde-schwarz.com
https://www.rohde-schwarz.com/us/home_48230.html
More from Architectural & Civil Engineering Products