New QWS4 120V Water Still Offers Distillate Conductivity of 3.0-5.0uS/cm
Press Release Summary: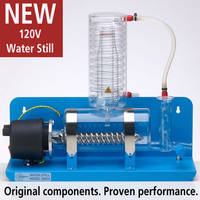 The QWS4 120V Water Still comes with Pyrex® glass boiler and condenser that reduce the contamination of distillate from the leaching effect of distilled water on metal components. The unit features 3 kW chromium plated heating element with 2 independent re-settable thermostats. QWS4 device provides distillate pH of 5.0-6.5 and can be wall or bench mounted.
---
Original Press Release:
New QWS4 120V Economy Water Still
Manufactured in the U.K., the QWS4 120V water still combines performance and reliability with exceptional value for money. This new water still incorporates a number of operational and safety features that make it the ideal choice for your laboratory. The 120V option saves the time and money of additional electric work.
Output capacity 3 Liters/hour pyrogen free* single distilled water
Distillate quality complies with European Pharmacopoeia for Purified Water & A.S.T.M. Type 4.
Pyrex® glass boiler and condenser minimize potential contamination of distillate from the leaching effect of distilled water on metal components
Distillate pH5.0-6.5
Distillate conductivity 3.0-5.0uS/cm
3kW chromium plated heating element with 2 independent re-settable thermostats protect the still in the event of water supply failure
Easy to clean. No glassware dismantling is required
Can wall or bench mounted
CE marked by independent testing agency
Supplied with an instruction/operating manual
All of the major components are available as spare parts
Please note water still heating elements are excluded from our 3 year warranty and are only covered for 1000hrs use or 1 year, whichever comes first. Economy 120V Water Stills are in stock and ready to ship. For additional information please contact Customer Service at cs@dyna-labware.com
*We recommend that the distillate is tested before use
Contact This Company Download Spec Sheet
More from Health, Medical, & Dental Supplies and Equipment